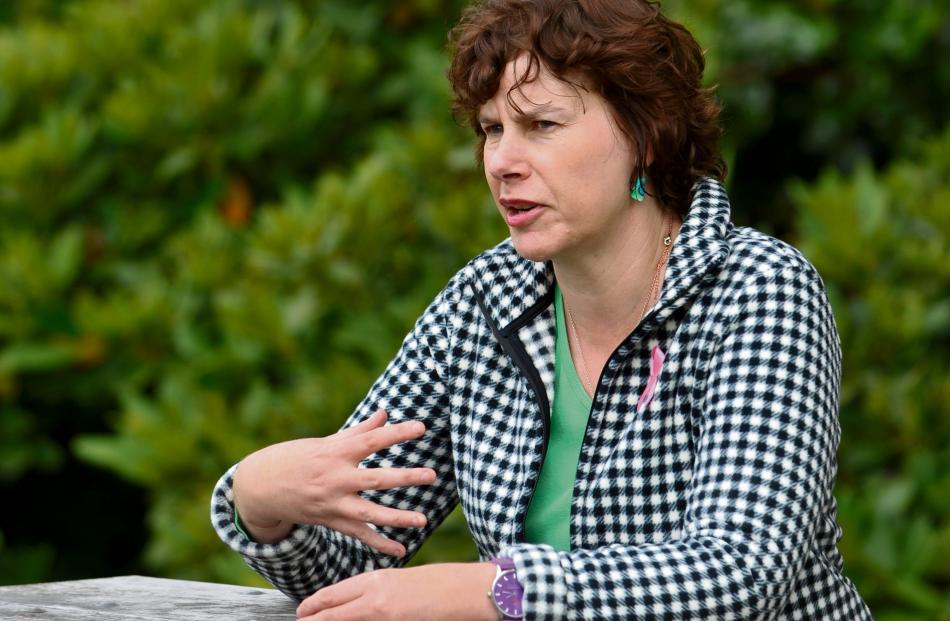 The waiting list for breast reconstruction surgery will be discussed behind closed doors at a Southern District Health Board meeting today. Shawn McAvinue talks to three Dunedin women on the list about living life in limbo.
Frustration, sadness and distress are emotions shared by three Dunedin woman waiting for breast reconstruction surgery.
The women are among 40 Southern District Health Board patients on the waiting list for breast reconstruction, figures released under the Official Information Act show.
The OIA request by the Otago Daily Times revealed 14 reconstruction surgeries were performed last year and another 14 in 2013.
When asked how many surgeries were planned, board chief executive Carole Heatly said a plan was being developed that would identify how many breast reconstructions could be done this year.
Jenny Sherman (55) has been on the waiting list since December 2012 after having a mastectomy in September 2011 and then chemotherapy.
Ms Sherman, a Dunedin Public Art Gallery paintings conservator, was told more than a year ago she was seventh on the list.
For her surgery, some tissue would be taken from her abdomen and transplanted to the breast site.
Some patients who did not need chemotherapy or radiation therapy had breast reconstruction at the same time as the mastectomy, and she expected the patients who had the reconstruction surgery would be included in those figures.
She hoped today that the board members would discuss using Mercy Hospital for surgeries.
''That would be excellent.''
Ms Sherman said she was in a good frame of mind after the mastectomy and chemotherapy, but in December had become ''depressed and frustrated'' and had lost patience waiting for surgery. .
''I think it is up to the health board to make the decision to help us.''
It saddened her that 40 people were on the waiting list.
''It's 40 people who are in limbo and can't get on with their lives.''
She had put holidays on hold and was saving her annual leave for the six weeks needed for the surgery and recovery.
She hoped it would happen this year,''I'd be super depressed if it doesn't happen and I'm really trying to be a healthy, optimistic person.''
The reconstruction was an essential part of the healing process and she hated wearing ''horrible and frustrating'' prostheses.
Marie Steele (48), of Mosgiel, had a mastectomy in April 2013, then chemotherapy and has been on a waiting list for reconstruction surgery since October last year.
The Taieri College science technician said she was ''frustrated'' because health professionals never mentioned there would be a wait for the surgery.
''I feel like they've broken a contract. They say they'll give you a mastectomy and chemotherapy - and the service was great. I couldn't fault the surgeons or staff, but then it's like, 'We can't finish the job'.''
Women deserved more transparency on surgery timelines so they could make an informed decision before agreeing to have a mastectomy, Ms Steele said.
''Never do they say they are not going to give you a reconstruction. For some women it might make a difference - they may think twice about having a breast off if they knew they were not going to get fixed.''
At the board meeting today, Ms Steele wants members to discuss if the surgery can be outsourced.
''I know it comes down to money, but it's not our fault ... Surely they have a duty of care to finish the job they started.''
Ms Steele said the surgery would help her psychologically.
''I'm in the prime of my life and I've got a lot of living to do ... I want to be back to what I was.''
Andrea Macnee (33), a student living at Green Island, said she suffered ''emotional distress'' after being given unrealistic time frames on when to expect the reconstruction surgery.
''At the start if they'd told me I was looking at up to five years, I could plan my live around that, but they said six months to a year, then a year and then two years.
''You feel like you are constantly getting pushed back.''
Since a story on Ms Macnee's frustration was published in the ODT in January, she had been been flooded with messages of support, including from women waiting for reconstruction surgery after a mastectomy.
''It has been good for me as an additional support.''
Southern District Health Board chairman Joe Butterfield said the board would meet the plastic surgery breast reconstructive service today for a preliminary discussion.
''It's more a briefing for the board on where the problem is and what the solutions are likely to be ... There are some procedures that have built up and haven't been done and that's got to be addressed and sorted out.''
Potential solutions included surgery outsourced outside Dunedin, at Mercy Hospital or more work completed in the board's hospitals, he said.
A solution would not be decided at the meeting today, he said.
The public would be excluded from the meeting because discussion would include staffing and financial issues.