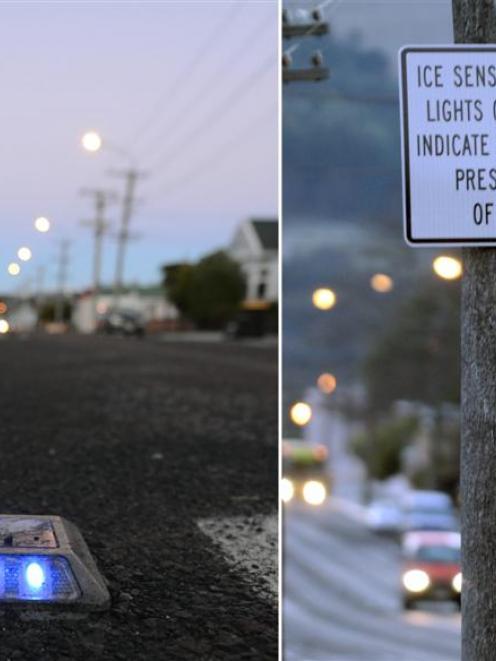 A need to find a solution to reduce the high number of winter crashes on Dunedin's Three Mill Hill Rd has led to the development of new technology, believed to be a world first.
Pateye raised pavement markers, developed by Christchurch company Solar Bright, are fitted with blue lights which flash when the road is icy.
About 20 of the solar-powered markers are now being trialled in Dunedin, on North Rd, Northeast Valley, and Main South Rd, at Sunnyvale.
The technology had its origins in the city where the Dunedin City Council asked its road marking contractor, Fulton Hogan, for ideas to help warn motorists of ice on Three Mill Hill Rd.
Fulton Hogan turned to solar lighting company Solar Bright, a company it had worked with previously.
The result of the collaboration was the Pateye.
Invented by Pat Martin, the Pateye (protection against temperature) had been patented and in addition to the road trials, it was also undergoing verification testing in Fulton Hogan's laboratory in Dunedin.
The markers incorporate a sensor which tracks the ground temperature. When it drops to a certain level, the blue LED lights start flashing.
The lights switch off when the temperature rises.
Solar Bright spokeswoman Nicola Martin said it was a simple, yet effective solution, believed to be a world-first, that could have a huge effect on road safety.
It was hoped information gleaned from the Dunedin trials would show people slowed when they saw the blue flashing lights, she said.
If successful, the technology would be marketed to other countries with similar road conditions.
"It could potentially save somebody's life," Mr Martin said.
"It is a real-time warning alerting people to black ice."
City council senior contract supervisor Bruce Wood said the council had chosen the North Rd site as there was a temperature gauge in a nearby pump station so the effectiveness of the markers could be measured, and the Sunnyvale site as it was near the contractor's yard so the markers' sturdiness could be tested.
A counter was in place to record vehicle numbers and speeds, and the information, along with crash statistics, was to be analysed at the end of winter.
It was hoped such technology could help on "vulnerable and busy" roads like Three Mile Hill, he said.
If it proved effective, the city council might look at installing the Pateyes on high-volume, high-crash-rate roads.