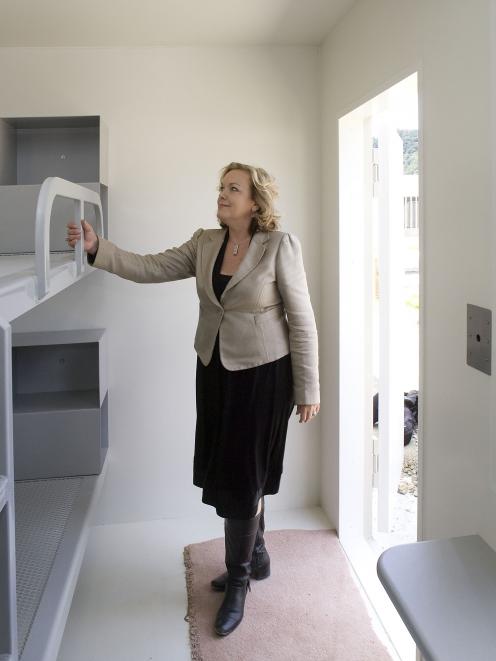 The first shipping containers converted into cells will be ready to house prisoners from April and Corrections Minister Judith Collins says it is possible the pilot will be expanded as pressure comes on the prison muster.
Ms Collins today toured the first container crate prison wing at Rimutuka Prison in the Hutt Valley, saying it was coming in on time and on budget to hold 60 prisoners.
Each 12.2m long container has been converted into three insulated and heated cells with two bunks, a toilet, shelving and a small table, all constructed out of steel.
Once completed there will be two shower blocks and a guards office -- also built out of containers -- laid out on a concrete square with a verandah roof around the inside of the wing.
Windows in the cells will look into the enclosed grass area.
"I am very pleased with them, they look very impressive to me," Ms Collins said. "They started work in November and they will be finished by the end of next month. It is a huge project and using the containers has enabled us to do that.
"It is about a $5 million budget and that is a 40 percent save on a normal build. This is a pilot though and they tend to be a bit more expensive. Also we needed these beds quickly so what we haven't done is use prisoners to help built the units and should we do this in the future we would expect to use prisoners."
Ms Collins said the cells were spartan, but more humane than many of the older prisons around New Zealand. They were also considerably stronger than the original Chinese prototypes.
Asked how likely it was the container cell concept would be expanded, Ms Collins said: "So far it looks pretty good, but it is a pilot and what we need to do is always evaluate how we are spending the money. Certainly at this stage it looks pretty good and we may well do more of this."
Ms Collins said since the Government won a court case allowing double bunking in prisons some pressure had been taking off bed numbers with an extra 900 now being made available, though the ever expanding prison population meant more beds would be needed in coming years.
Corrections officials said the six month build time and the ability to move the containers around to other facilities would give them more flexibility in managing prisoners.
It is believed that while the new prison wing should be ready in April it could be June before the first prisoners are moved into the container crate cells.
New Zealand's burgeoning prison population was forecast to require 5000 extra beds by 2018.