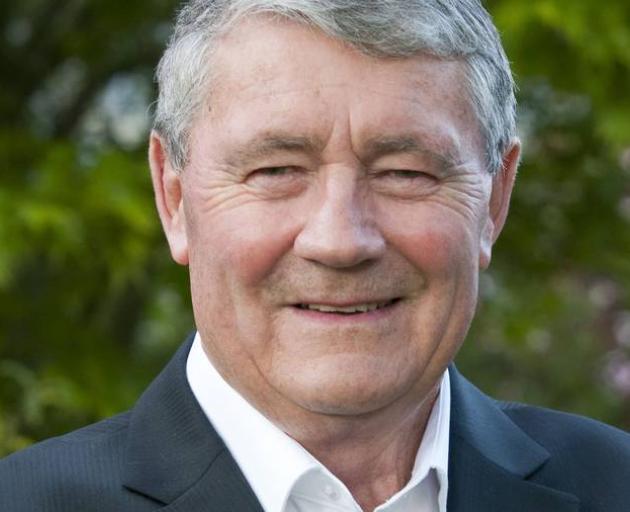 Former deputy prime minister Jim Anderton has died, two weeks short of his 80th birthday.
The former Alliance leader "passed away peacefully overnight at Cashmere View Hospital in Christchurch", his widow Carole said in a statement released on Sunday.
Funeral details would be announced in due course.
Former prime minister Helen Clark - who ran the country with Anderton as her deputy - said he was a "powerful advocate for the voiceless & marginalised & for a better, kinder, fairer New Zealand".
"He had huge leadership capacity & inspired me as a young Labour activist."
Megan Woods, who succeeded Anderton as Wigram MP in 2011 and is now Minister of Energy, said Anderton "hadn't been well for a while".
Prime Minister Jacinda Ardern said New Zealand had lost a man of integrity, compassion and dedication to public service.
"He was a towering figure in the Labour movement for several decades. He will be remembered as someone who stood up for his principles and for the people he represented. His integrity during difficult times marked him out as a true leader.
"Jim's influence as president of the New Zealand Labour Party has lasted for decades. He built a powerful campaigning organisation, selected candidates who became Ministers and Prime Minister and he was an innovative fundraiser."
She described his work to establish the Alliance and Progressive Parties as "both difficult and trailblazing".
"He never gave up on the values of the Labour movement, and worked tirelessly to bring it back together through the years of the fifth Labour-led Government.
"Jim was also a loyal servant of the people of Sydenham and Wigram, serving as an MP from 1984 to 2011. He loved the people of Christchurch and his commitment continued beyond central government politics, including in recent years as Chair of the Stadium Trust and working to save the ChristChurch Cathedral.
"There are few figures in New Zealand politics like Jim Anderton. A man of deeply-held values and ideals, he was practical and compassionate. We mourn his loss, and extend our heartfelt sympathies to Jim's wife Carole, his family and friends."
She said he was first elected to public office in 1965 as a Manukau City Councillor and served local then central government for more than 40 years.
A life in politics
Anderton was a former Labour MP who famously left the party after a falling out in 1989. He went on to head the Alliance party and served as deputy prime minister from 1999 to 2002.
In 2010, he ran unsuccessfully for the mayoralty of Christchurch. The following year he retired from Parliament.
Anderton was credited with reviving the Labour Party organisation as party president from 1979, helping the party to victory in the 1984 election under leader David Lange.
Anderton quit the Labour Party in 1989 after refusing to support selling off the Bank of New Zealand. He famously remarked that he had not left the Labour Party, the Labour Party had left him.
He remained angry at Labour for many years, but put aside his differences to help Labour leader Helen Clark take power in 1999.
After leaving Labour in 1989 Anderton had founded the New Labour Party, which he said would stand for the social-democratic principles that Labour used to stand for.
New Labour merged with other left-wing parties to form the Alliance Party in 1991, which won two seats in the 1993 election, 13 seats in 1996, and became part of Clark's coalition government in 1999.
After his retirement, he campaigned to have Christchurch Cathedral rebuilt following its collapse in the 2011 earthquake.
He was appointed a Companion of the New Zealand Order of Merit in the 2017 Queen's Birthday Honours, for services as an MP.
He had been living at Nazareth House, a rest home and hospice in Sydenham.
On September 3, he had a special investiture ceremony at Nazareth House attended by the Governor-General Dame Patsy Reddy, the Mayor of Christchurch Lianne Dalziel, and Helen Clark.