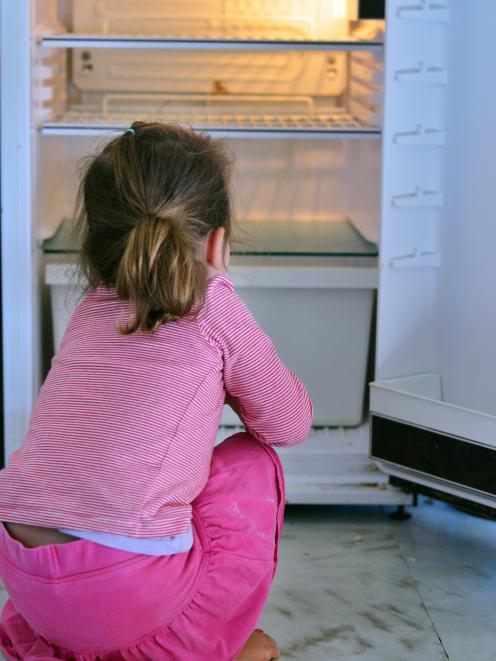 Emergency hardship grants are at record levels because basic welfare provisions have been "methodically" squeezed, the Child Poverty Action Group says.
The group says in a new report today that the new Labour Government needs to rewrite the principles of welfare law after previous Governments led by both Labour and National gave priority to helping people back to work.
"The first task is to examine the underlying values and principles that would be at the foundation of policy changes," it says.
"Child Poverty Action Group (CPAG) believes these principles must include adequacy, belonging and participation, simplification, removal of discrimination, reduction of disincentives and a welfare system that puts children first."
The report, Further Fraying of the Welfare Safety Net, reviews the nine years of National-led Government from 2008 until two months ago as a sequel to a 2008 Caritas report, The Unravelling of the Welfare Safety Net.
It says Helen Clark's Labour Government in the years up to 2008 began to "unravel the safety net" by rewriting the purposes of the Social Security Act as helping people to find or retain work and helping them to support themselves while not in work provided that they "use the resources available to them before seeking financial support".
"Just as in the 1980s, Labour again paved the way for an incoming National Government to make even more extreme reforms," the report says.
It says National's "social investment" policy, aimed at cutting the long-term costs of welfare to the state, put even more stress on getting people back to work as soon as possible.
"The investment approach appeared to support a methodical unravelling of the remaining welfare safety net," it says.
Despite a $25 a week increase in the basic benefit for families with children in the 2015 Budget, which helped to reduce the number of children in poverty after housing costs by 10,000 last year, CPAG says the failure to lift basic benefits in line with escalating housing costs has led to "vastly expanded" hardship grants.
The number of special needs grants (SNGs) jumped by 38%, and their cost almost doubled from $17 million to $38 million, between the September quarters of 2015 and 2017.
This was partly driven by the new emergency housing grants which came in at the end of last year and were paid to 9159 people at a cost of $9 million in the September quarter this year.
But emergency assistance - special needs grants or advance benefit payments (ADV) - also doubled for people affected by benefit stand-downs, up from 5156 people at a cost of $0.5 million in the September 2015 quarter to 10,380 people and a cost of $1.2 million in the latest September quarter.
By comparison, there was relatively little change in recoverable assistance payments (RAP).
The report says the increase in payments to people on benefit stand-downs follows tougher rules introduced at the same time as the $25 a week benefit increase last year, including requiring parents to look for work as soon as their youngest children turned 3.
"For the year ended September 2017, Ministry of Social Development benefit fact sheets show that nearly 20,000 families were sanctioned, involving nearly 40,000 children," the report says.
"The sharp end of alleviating hardship has come from an expansion of private charities, for example KidsCan and Variety, and from foodbanks such as those run by Auckland City Mission and the Salvation Army."
Labour's families package announced last week will reduce the number of children in poverty by 88,000 by 2021 through higher family tax credits and accommodation supplements and a new $60 a week payment for a year to all families with newborn babies, with two further years for beneficiaries and other families on low incomes.
CPAG said the package would provide "a significant boost to income support where it's desperately needed".
But it said more was still needed, including "regular annual adjustments, including adjustments to reflect wage growth to ensure that families don't fall behind over time".
- By Simon Collins