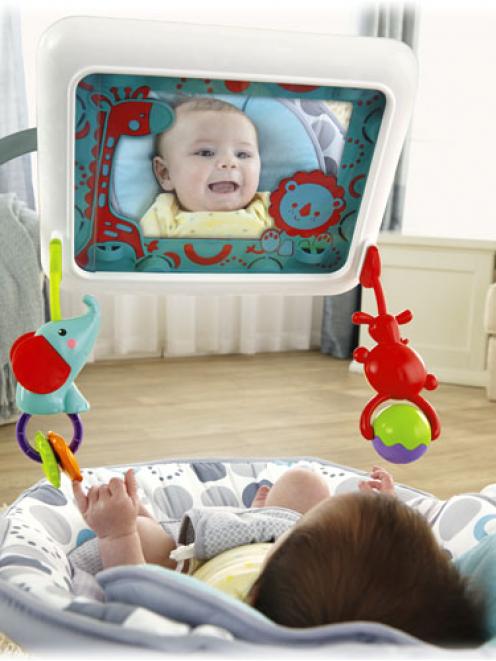 An education expert says digital products are being targeted at ever-younger infants, as a baby bouncer complete with iPad holder goes on sale.
Toy company Fisher-Price says its Apptivity Seat, which places an iPad directly in front of a newborn or toddler, is a "niche product" that is only available online and is not positioned as an educational tool.
But despite the caveat, the product has drawn condemnation from the US-based Campaign for a Commercial-Free Childhood, which is petitioning for it to be banned.
The group said there was no evidence babies benefited from screen time and it could even be harmful.
"Babies need laps, not apps," the petition said.
A Fisher-Price spokesman said the Apptivity Seat would not be sold in New Zealand.
Early childhood education expert Tara Fagan, a consultant with Core Education who specialises in digital learning, said she had not seen the product, but she would be concerned about newborns and infants getting passive screen time.
"I would be very wary of it being educational."
Ms Fagan said she was not surprised the product had emerged, and there was a trend towards marketing digital products to younger and younger children.
But mobile devices had huge potential to support learning when used well with young children.
"There's a big difference between screen time and just watching, and actually being able to create and interact."
Ms Fagan said children were already exposed to iPads and tablets from a young age by watching others using them at home.
There was no right age to introduce mobile devices to children, and it was more about how they were introduced.
"We need to be careful about how children engage with it - that it's done so alongside an adult, in a supportive environment, because I think there is some good learning that can come from it.
"But it doesn't replace any of the other learning that those children should have. It's more of a balance."
In a statement, Fisher-Price said the product was not for everyone, but it wanted to offer it as "yet another option for those parents who want the added feature of engaging in age-appropriate content with their children".
The company said the product had a time-out feature that allowed 10 minutes of activity before the app required a manual reset.
It said reviews from parents who had bought the seat showed strong parental involvement and support.
Fisher-Price's senior director of child research, Dr Kathleen Alfano, said children benefited from various stimulating experiences, and exposure to media was the norm for many families.
She said parents should limit infants' viewing time, ensure they took periodic breaks, review the content they were exposed to and be with infants while they were viewing media.