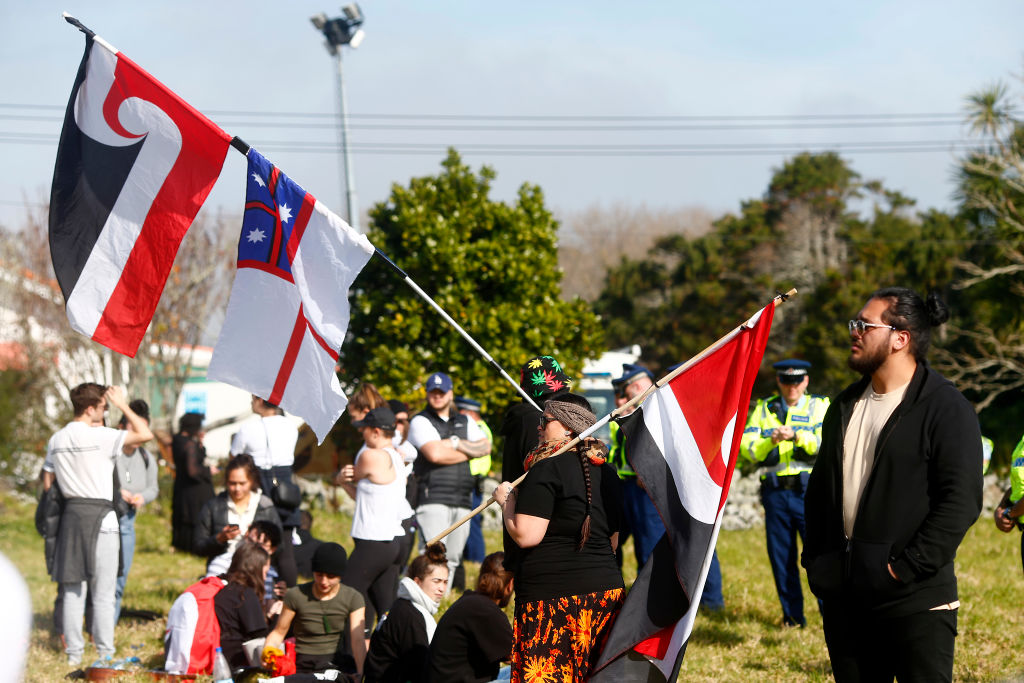 Prime Minister Jacinda Ardern has vowed that no building will take place at Ihumātao while the government and other parties try to broker a solution.
Speaking at Auckland Airport this evening, the Prime Minister said the government wanted to find a peaceful solution to the Imuhatao stand-off.
She spoke after meeting with local iwi, Fletchers, and the Auckland City Council.
"We have heard, here, the strong voice of young people," Ms Ardern said.
"At the same time we hear the perspective of mana whenua.
She said the government had to address that there had been an escalation and that's why the call was made to hold off on building work.
"That activity cannot take place while there is such a large gathering there.
"I understand young people will be joining and travelling and we ask that they be respectful," Ms Ardern said.
As for the police presence, she said it was up to police to make an operational decision on their presence at the site.
Ms Ardern said Labour MPs Peeni Henare and Willie Jackson will go down to the site and talk to protesters tomorrow.
Mr Henare said he and Jackson will head there "primarily to listen."
Earlier this week, Ms Ardern said the government would not intervene in the issue.
"Ultimately we are falling on the side of the local iwi [who support the housing development] and their position. They are not the ones leading the protest here and so if we come in over the top, it really would be undermining the local iwi in this case," she said on Wednesday.
Numbers continue to swell
Numbers at Ihumātao have swelled to about a thousand as many join the land protest, ahead of the weekend.
It's the fourth day of attempts to stop a special housing development from being built on ancestral land near Auckland airport.
Organisers said there will be live music performances at the site of the protest tomorrow.
Sherry Kingi, a kaumatua at the site, urged more people to come over the weekend.
"I know we're going to carry on and I hope more people, not just Māori but everyone," Ms Kingi said.
Earlier today, police moved back in one of the main paddocks to allow more space for people with tents.
Cars were parked right down on both sides of Oruarangi Roa, and there was a continuous flow of vehicles dropping off supplies.
Green Party MPs joined the protest today and co-leader Marama Davidson told the crowd she wanted all parties to find a peaceful resolution to the land dispute there.
Ms Davidson wouldn't say how the land should be returned but reiterated that she wanted the government to intervene.
She said she was concerned about the police presence and said the issue was not going to go away.
Several local school groups have also arrived in buses to support the occupation, which shows no sign of ending any time soon.
There is a constant flow of cars and people turning up.
The cars are being monitored by Māori wardens to keep traffic safe.
People are donating firewood, adding to a growing supply.
Protest leader Pania Newton has called for her uncle Te Warena Taua, kaumatua for the local iwi who opposes the action, to speak to her.
She said she also had yet to receive word from the Auckland Council about when a promised hui between all interested parties was expected to take place.
She told media her message to the Green Party was firstly one of thanks.
"And gratitude for their support over the many many years that our campaign has been running and secondly is to encourage them to appeal to Jacinda Ardern who has the power to reverse the decision of the special housing area."