A 30-metre weave of cobweb that blanketed part of the Bay of Plenty during the weekend has been described a natural phenomenon known as "spider bum parachutes".
The large, shimmering ribbon of web covered much of Papamoa's tsunami evacuation mound after heavy rain flooded parts of the Bay last week.
Parents dropping their children off to football at Gordon Spratt Reserve during Easter weekend were left startled and fascinated. The web, measuring several metres wide, stretched out to Papamoa College.


Canterbury Museum curator and spider expert Dr Cor Vink said the phenomenon happened quite a bit after flooding as spiders sought out higher ground.
"What a lot of people don't realise is pasture is full of spiders munching away on things, and what they tend to do is move around by releasing a drag line of silk to help them in case they fall," he said.
"The other way to get around, especially with smaller spiders, is they will point their bums in the air and release a line of silk, it's called ballooning. The wind picks them up, releases them along the way and they land and that piece of silk lands with them.
"It's like spider parachutes."
In 2014, a 75m web covered parts of Northland after flooding from the Hikurangi swamp.
Dr Vink said spiders did the same with bushes, scrubs and sometimes trees.


"It demonstrates how many spiders there are," he said.
"You are never really more than a metre away from a spider. They are everywhere ... going about their own business. You never see them except for things like this that bring them out into the open more.
"They pose no problem to us. They are beneficial, too, because they will eat other insects. There's no need to disturb the web. It's not there to catch anything. It's just spiders, wandering around."
Papamoa man Jared Roy dropped his boys off at football training and headed over to the web after spotting something about it online.
"It's pretty weird," he said from the mound this morning.
"I didn't really get what they meant [online] but now I see it, it's like a big matted cobweb on the ground. It looks like something out of Halloween."
Mr Roy said he didn't notice any spiders until he walked through the web "and now there's thousands of them all over my shoes".
"It's something pretty different all right."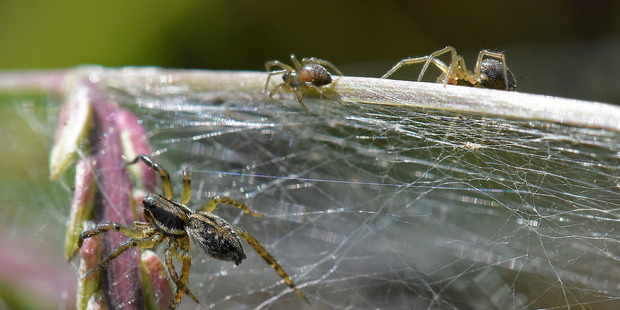 Tracey Maris first spotted the web on Sunday after also dropping her children off to play football. She and her daughter noticed an odd gleaming at the tsunami evacuation mound.
"We thought surely there are no spiders inside that," Ms Maris said.
"We walked further up, and our feet started getting stuck in the cobwebs and then we noticed little black things on top.
"So, as you do, we screamed really loudly. Oh my God, they were everywhere; literally thousands of them."
When her husband and stepson came to investigate, the spiders immediately started crawling up her son's legs.
She whipped out her phone to get proof. "It was just fascinating. I've never seen anything like it in my life."
The video has since been viewed thousands of times.
Thankfully her arachnophobic oldest daughter was not at the park. The youngest was "absolutely fascinated because it was beautiful," she said.