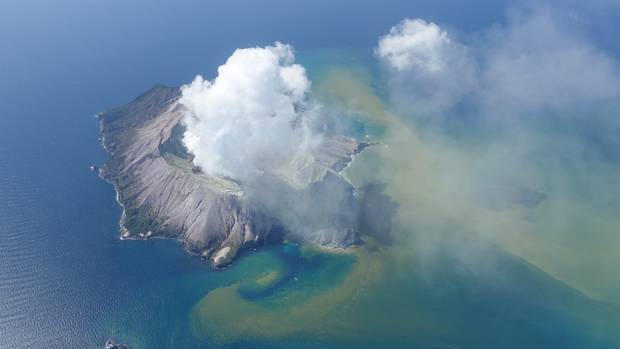 KEY FACTS
Eight people confirmed dead after two more deaths in hospital overnight - formal identification process continues today
A further eight are thought to be on the island, presumed dead
30 in hospital - 8 in Christchurch, 7 in Middlemore Hospital, 6 in Waikato, 4 in Hutt Valley, 2 in Auckland City, 2 in Tauranga Base Hospital and 1 in Wellington
One injured Australian due to fly from Wellington to an Australian hospital overnight
More Australian patients expected to be flown to hospitals across Tasman in coming days
47 people were on or near the island when the volcano erupted -  24 Australians, nine from the US, five Kiwis, four Germans, two Chinese, two from UK and one from Malaysia​
Police say the plan to recover the bodies from Whakaari / White Island tomorrow morning will take several hours, and still carries a lot of risk.
Shortly after first light tomorrow, NZ Defence Force assets with specialised equipment will go on to the island and make every effort to recover the bodies, Deputy Commissioner Mike Clement said.
He told media in Whakatāne this evening that it was still a risky operation and police had to be very cautious.
"A lot has to go right for this to work.
"There is no zero-risk option in regard to the plan but we have carefully considered it."
READ MORE:
Clement said the best option was to get on to the island, get the bodies and get off as quickly as possible, but added that he expected it to take several hours.
He said police did not expect anything to change overnight in terms of risk.
"The risk has not gone."
He said there had been an "incredible effort" to put the recovery operation together.
NZDF staff will be going to the island tomorrow, but Clement won't elaborate further.
"People are putting themselves on the front line to do the right thing.
"We have the right people with the right skills and the right equipment."
Clement says the mission will take a number of hours, and around 8 people are going to the island tomorrow.
Many decisions will be made tomorrow and it may change, Clement said.
The missing victims' families have been briefed on the operation.
Eight are missing. Police know through eyewitness interviews and drone footage and other footage that six bodies can be seen.
"But we know that we are missing 8 people."
"We know exactly where they are, the 6 people", so they will be the first priority.
"We can't find anything more than six, that's not to say they're not there."
We will make every effort to recover all of the bodies however our plan is subject to things beyond our control such as the island and the weather, he said.
Police will likely not have enough time to search for the remaining two tomorrow, he said.
We have been careful to make sure the plan is not so inflexible that it cannot change based on what they see or find, he said.
"I've given a deep commitment to the whanau that we will do everything in our capability to develop a plan that gives us the best chance to return the bodies to the families."
"We're here to do a job. We understand the expectation of everybody. I hope you understand from our perspective that when have to do this safely."
If the volcano erupts tonight they will go back to the table and plan again.
GNS Science this afternoon increased its predicted threat of an even bigger eruption at Whakaari / White Island in the next 24 hours.
The monitoring agency had forecasted a 40 to 60 per cent chance, but today increased this to a 50 to 60 percent chance.
The alert level remains at 2, but scientists said there was still a risk of eruption and it was not safe to launch a recovery eruption.
GNS said there had been an uptick in seismic activity since Monday's eruption, which killed at least eight people and injured dozens more.
 - NZ Herald/RNZ