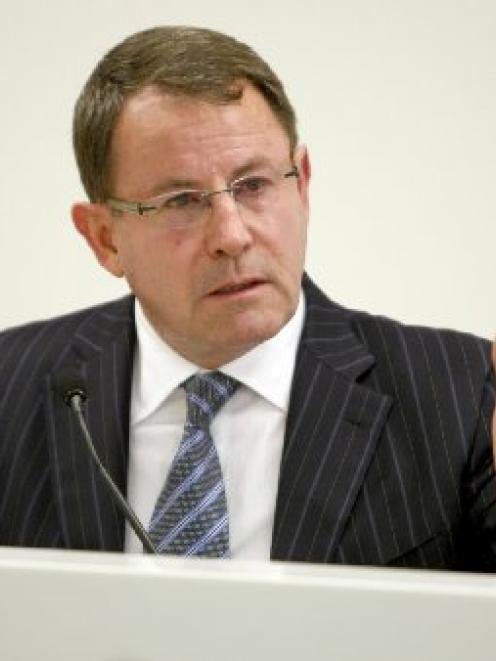 John Banks may have to give evidence under oath about his involvement in the Kim Doctom donation saga.
The Act MP has been summoned to appear in court next month after a judge found there could be enough evidence to bring a private prosecution over allegations he filed a false electoral return for his 2010 Auckland mayoral campaign.
Police investigated whether Mr Banks knowingly declared two donations from internet tycoon Kim Doctom as anonymous, and found there was insufficient evidence to prosecute.
But Mr Banks may still have a case to answer after retired accountant and political activist Graham McCready brought a rare private prosecution against him.
Mr McCready's submission relies in part on sworn statements to police, released after the investigation, including Dotcom's insistence that Mr Banks asked him to split a donation in two so it could be declared as anonymous.
Wellington District Court judge Ian Mill this week ruled there could be a sufficient case to be tested and summoned Mr Banks to appear on December 11.
Mr McCready said even if the case did not go to trial, he hoped the court would release Mr Banks' statements to police over the donations - statements which were redacted when the police report was made public in September.
Mr Banks brushed off the private prosecution.
"This is nothing more than an attention-seeking stunt. It's a waste of court time and taxpayers' dollars."
He had not yet received a court summons.
The maximum penalty for knowingly filing a false electoral return is two years in prison or a fine of up to $10,000.
Mr McCready has himself been convicted of filing false claims.
In 2009, he pleaded guilty to filing about $49,000 in false tax claims for clients and was sentenced to six months' home detention.
The private prosecution is the second he has brought against an MP.
In 2007, Mr McCready brought a case against Trevor Mallard after the Labour MP lashed out at National MP Tau Henare outside Parliament's debating chamber.
Mr Mallard was convicted of fighting in a public place and ordered to pay $500 to a Salvation Army drug and alcohol programme.
- By Matthew Backhouse of APNZ