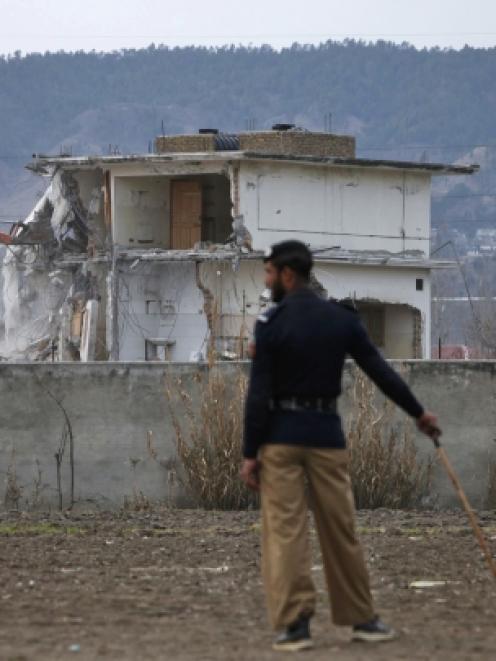 The Pakistani home of al Qaeda chief Osama bin Laden, the place where he was killed after the biggest manhunt in history, is no more.
Pakistan security forces completed the demolition of bin Laden's compound on Sunday (local time), erasing a symbol of humiliation for Pakistan's military that has marked one of the most difficult periods in US-Pakistan ties.
Bin Laden was killed in the house in Abbottabad on May 2, 2011 by US commandos in a daring night raid that left the Pakistani military angry it had not been consulted. While much of the world cheered the death, Pakistan fumed over what it called a violation of its sovereignty.
"The process of demolishing the compound on Saturday evening has been completed on Sunday night," a senior security official said in Abbottabad, requesting anonymity because he was not authorised to talk to the media.
"The whole structure of the building has been razed to the ground. It actually took some time as the process of demolition and removing the wreckage was going on simultaneously."
Why Pakistani authorities decided to demolish the structure now is unclear.
During the demolition, security forces cordoned off the compound and restricted nearby residents' movements. Life in the rest of the military town continued as normal, with children playing cricket and flying kites, and couples strolling or shopping.
The Pakistani military and local security forces had begun moving heavy machinery into the area on Saturday evening.
Residents had complained of problems due to security measures since the killing of bin Laden, with many saying it was better to remove the building and let people live their lives.
On the moonless night of May 2, Navy SEALs swooped in on specially modified Blackhawk choppers, forced their way to the top floor of the house and killed bin Laden with shots to the head and the chest.
One helicopter was damaged and forced to land, leaving the SEAL team to pile into a remaining chopper along with the al Qaeda chief's body. The Pakistani army says it knew nothing of the operation until it was over.
The United States has said it kept the raid secret because it feared elements within Pakistan - possibly connected with its spy agency or military - could tip off bin Laden.
The relationship has never recovered. It deteriorated further after an attack by NATO helicopters on a Pakistan border post in November left 24 Pakistani soldiers dead.
Pakistan has closed off NATO supply routes to troops in Afghanistan. A Pakistani doctor who helped the United States verify bin Laden's location in Abbottabad is in a military prison facing possible treason charges for working for the U.S. Central Intelligence Agency.