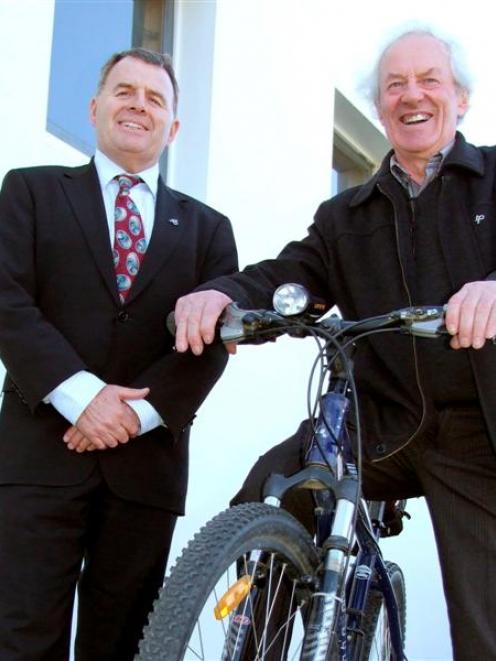 Cycle trails are the "least invasive form of tourism on the planet" Clutha Gold Trail Trust chairman Rod Peirce said as he signed an agreement for $2.54 million in funding for the project yesterday.
Planning began four years ago and signing the contract between the New Zealand Cycle Trail project and the trust was a real milestone, he said.
National cycle trail programme manager John Dunn, Central Otago mayor Malcolm Macpherson, Clutha Mayor Juno Hayes, Clutha and Central Otago district councillors, Lawrence-Tuapeka and Roxburgh Community Board members attended the signing in Roxburgh.
The Government funding is for the first stage of the Roxburgh-Lawrence trail, from Roxburgh to Beaumont. Funding for the second stage, from Beaumont to Lawrence, is still under review.
"There's still some land access issues we have to sort out but we're confident that will happen," Mr Peirce said.
"Signing this contract is another stage of the journey and gets us closer to construction."
Planning had already started well before the Government announced the national cycle trails initiative but the funding available accelerated the likely starting date for the project.
He hoped the first construction work on the trail could be under way by July next year.
Mr Dunn said the title of the trail summed up the reasons why it was successful in gaining funding.
"The first thing is the Clutha, the river, the landscape you go through; what could be better than cruising along with the water beside you."
"Then there's the gold mining culture. A lot of our trails have one string to their bow - the landscape, but you have a second string, which is the mining history of the area."
Towns were evenly spaced along Clutha Gold's 73km length, at Roxburgh, Beaumont and Lawrence, so were well-placed to cater for the visitors attracted to the area by the new trail, he said.
"The national cycle trails will revitalise communities and attract New Zealanders and overseas people to your towns."
Roxburgh Community Board chairman Stephen Jeffery said there was a "huge groundswell of support" for the trail in the Teviot Valley.
"Every day I have people asking me when it's going to get under way. This is a step in the right direction, " he said.
Central Otago Mayor Malcolm Macpherson said the economic benefits from the Otago Central Rail Trail had highlighted the importance of such projects.
Clutha Mayor Juno Hayes said Mr Dunn was welcome to visit any time - "especially if you bring a cheque with you".
The trail will link into the proposed Roxburgh Gorge Trail, from Alexandra to Roxburgh.
---
CLUTHA GOLD TRAIL
• 73km, following true left of Clutha River.
•Stretches from Roxburgh dam to Lawrence.
•$2.54 million approved for Roxburgh-Beaumont section.
•Construction work could begin in July.
•Will link to Roxburgh Gorge trail.
•Promoted by Clutha Gold Trail Trust.
---