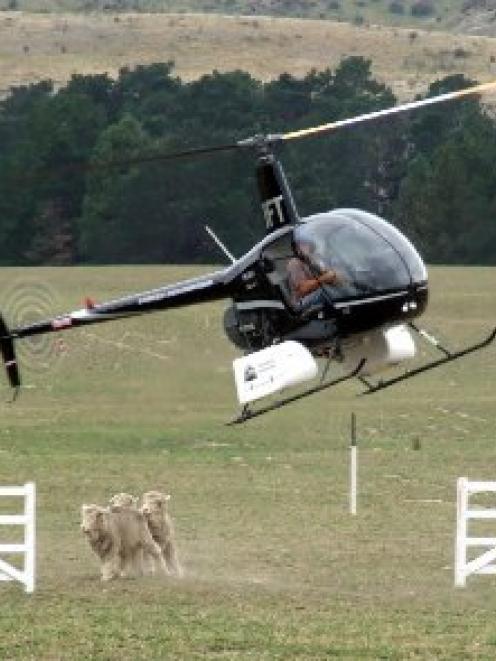 Airborne shepherds displayed stockmanship to surprise even the most die-hard dog trialists at the inaugural Tarras Dog Heli Challenge yesterday.
''I thought it was a stupid idea at first,'' Tarras Collie Dog Club life member Gordon Lucas said, shortly before he awarded the trophy to competition winner, pilot Dan Perriam, of Bendigo Station.
''But, I must say how impressed I was at the stockmanship on display and I'm disappointed the other [Tarras Collie Club] life members weren't here to see it.''
Four pilots competed in the inaugural event, using their helicopters to direct sheep through two courses - the short head and yard and the long head.
While heli-herding sheep might seem like a novelty to most city-slickers, the practice is becoming a cost-effective method of mustering large herds on high-country stations.
Trophy winner Dan Perriam said he was surprised at how well his run went, given he was moving only three sheep, rather than the 3000-strong flocks he was used to.
''I'm really surprised how they stayed together. To be honest, I thought they were just going to scatter every which way,'' he said.
Mr Perriam used a helicopter to muster ''all our 15,000 sheep'', run across his family's three high-country stations around Tarras - Deep Creek Shepherds Creek, and Bendigo Station.
Tarras Collie Club president Richard Pledger said he had been trying to get the helicopter challenge ''off the ground' for the past three years, but had met some opposition from dog trial traditionalists.
''They said I could only do it in the last year of my presidency, but I reckon it's here to stay. It could well become a world-wide phenomenon,'' he told farmers at the event prizegiving.
Mr Perriam scored 97.5 for his short head and yard run which compares with the 99.5 Omarama triallist Ginger Anderson scored in winning the ground-based event with his dog, Don, on the first day of the trials, on Wednesday.