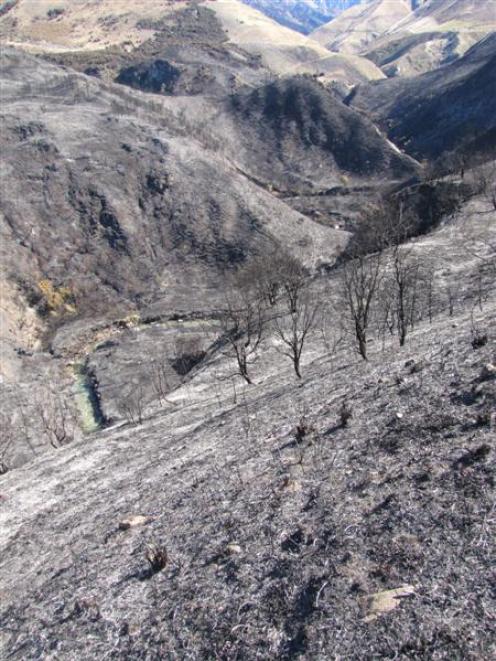 Two fires that burned reserves last week are being investigated by the Department of Conservation.
The fires were caused by escaped farm burns. The costs, likely to be passed on to the respective Lake Hawea farmers, have yet to be determined.
The costs are likely to be in the tens of thousands. It costs about $2000 an hour to hire a helicopter and five machines, using monsoon buckets, were used for several hours on Friday's fire at Craig Burn reserve.
The escaped fires have prompted Doc's Otago conservator and principal rural fire officer Marian van der Goes to urge landowners to take extra care, comply with fire permit conditions, check weather forecasts, make sure the fires are well attended, and check they have adequate rural fire insurance.
"Anyone responsible for causing a fire which spreads to public conservation land can be held liable for the cost of putting it out," she said in a media release yesterday.
The largest and most significant was Friday's fire near Glen Dene Station, which has clearly devastated about 30ha of regenerating beech forest in the Craig Burn reserve which is the entrance to the much larger Matatiaho Conservation Area.
Doc Wanaka area manager Paul Hellebrekers said Hunter Valley Station also reported a fire at Neck Creek on Thursday, but the station owners quickly brought it under control, with just minor damage to some trees on the fringe of the Hawea Conservation Park. Mr Hellebrekers was comfortable with the steps taken by the station owners to control it.
There were no recorded hot spots at Craig Burn yesterday morning but the fire would not be officially declared out until later this week, once staff had observed how the area responded to wind changes.
When asked if Glen Dene Station would be liable for costs, Mr Hellebrekers said an investigation needed to be done first.
"Part of that is determining costs and reimbursement. There are set procedures we go through. Generally, the costs are for recovery - for the fire brigades, staff time and helicopters."
• A 150ha fire in the Mt Alta Conservation Area in 2007, caused by an escaped fire from West Wanaka Station, resulted in a charge of $68,000 (excluding GST) to the landowner.