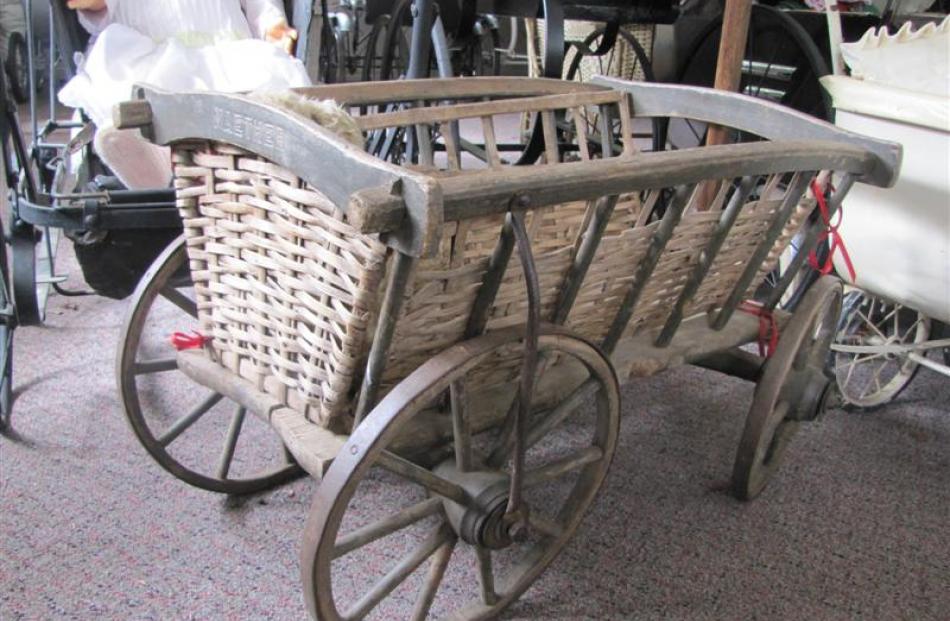 For Shingle Creek pram collector Lesley McGregor (60), the first piece in her collection was a necessity - she was pregnant with son Duncan. That was in 1980, she was living in Invercargill and the second-hand Pedigree Airstream was only $5.
It was not until she was given an old cane pram in the late 1990s that her collecting really begun.
Now, with 60 prams worth about $35,000, she has turned a room of her and former All Black husband Ash McGregor's house into a museum to display her collection.
''They are a very large part of our social history, and I figure if you don't look after them, then they are gone,'' she said.
Her oldest pram dates from the early 1800s - a cane basket with wooden wheels and a fabric hood which was rotted when she bought it. However, she managed to piece it back together enough to take a pattern and then recreate it, though that is not something she likes to do.
''I try to keep everything as original as possible.''
That one cost her about $450 at auction in Dunedin.
The prize for most expensive pram though goes to an $800 circa 1890 mail cart made in Dunedin.
Despite the title, it was not used as a mail cart, the name came about because it had two handles, like the mail carts used in Victorian England.
''That was because all the early prams, up until about 1906, were all made by carriage companies that also made horse carts and so on ... then in the early 1900s pram manufacturers started specialising in making prams.''
Though she has tried to research the history of her prams, she has found that difficult due to the lack of information in New Zealand.
''There's only one book in New Zealand that I have found. It's by an English author but is held in the National Library.
''England has quite a bit of information because there are quite a few collectors over there.
''I know of some others in New Zealand that have prams but they are usually doll collectors that use prams to display their dolls. I don't know of another collection in New Zealand of this size.''
Mrs McGregor is not a doll collector but does own quite a few - she places them in the prams, dressed in the kind of clothes babies would have worn in the corresponding era.
Though her museum is no great money earner - she charges only a gold coin entry fee - she does get quite a few interested people, especially over long weekends and holiday periods.
''I've had bus tours come through from a retirement village in Mosgiel and Probus ladies from Dunedin, Balclutha and Gore.''
She has also had people borrowing prams for baby photos, for productions and, once, for a film.
Over the years, she has done a few parades and events with her prams including the Alexandra Blossom Festival and the Ranfurly Art Deco Festival.
A lot of the prams had been given to her by people who knew she was a collector while others had been bought at auction or privately.
''I keep my ear to the ground.''
Though there is barely room to walk between the rows of prams in her museum and there are more prams outside, Mrs McGregor said she could not imagine giving up her collection, which spans almost 200 years of pram history.