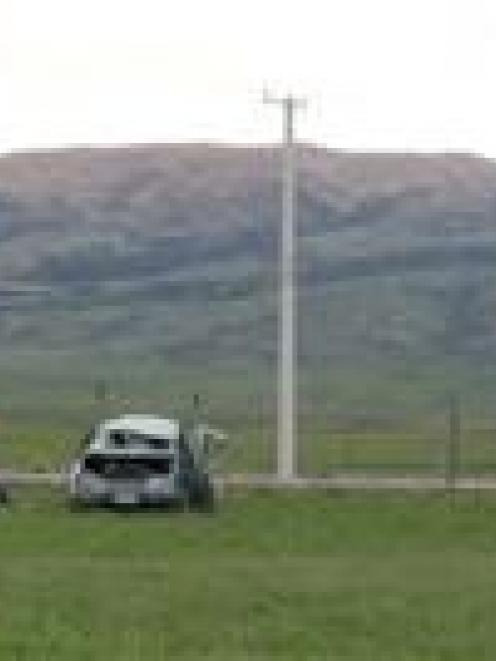 The investigation into a fatal van crash near Poolburn early yesterday is likely to be delayed by the number of other fatal or serious crashes being assessed in the Southland and Otago regions.
The Central Otago shearing community was in mourning after Stewart Hetaraka Smith (20), of Mataura, and Lavenia Setefano (19), of Gore, died at the scene of the single-vehicle crash on the Ida Valley-Omakau Rd.
Both were passengers in a Toyota Previa van being driven towards Oturehua when it rolled on a straight stretch of road about 6.15am and came to a stop upright in a nearby paddock.
All six occupants of the van, who worked for Alexandra-based shearing contractor Dion Morrell, were thrown from the vehicle.
Two young Alexandra women, aged 17 and 20, and a 40-year-old Masterton man were taken by Otago Regional Rescue Helicopter to Dunedin Hospital with serious injuries.
The man was reported in a critical condition last night.
The sixth occupant, a 36-year-old Gisborne man, was taken by ambulance to Dunstan Hospital at Clyde with moderate injuries.
The six van occupants worked as shearers and wool handlers.
Traffic was diverted after the crash, and the section of road remained closed until early evening, while a serious crash unit from Invercargill assessed the scene.
Detective Sergeant Derek Shaw, of the Central Otago CIB, said it was likely some, or all, of the occupants were not wearing seatbelts.
Police believed they had identified who was driving the van, although that person would have to be spoken to by police before this could be confirmed.
The investigation into the crash might not be completed for eight weeks, he said.
There seemed to be a dramatic increase in the number of fatal or serious crashes in the Central Otago area during the past couple of weeks.
"This would have a flow-on effect with time delays in investigating crashes," he said.
Mr Morrell was yesterday mourning the loss of two workers and anxiously awaiting news of the surviving van occupants.
"We are quite devastated by this, as is the whole [shearing] industry. We don't like to lose anyone and the two people [who died] were very special," he said.
Det Sgt Shaw said police were keeping an open mind about factors in the crash, but fatigue and speed were likely to remain at the centre of attention.
Southern district police roading manager Inspector Andrew Burns yesterday urged the community to work with police to reduce the number of fatalities on southern roads.
Yesterday's deaths brought to seven the number of people killed on Southland and Otago roads this month, a figure which was far too high, Insp Burns said.
"This level of road fatalities has an impact on everyone including families, communities, and emergency services. We all have a part to play in keeping the road toll down," he said.
So far this year, 27 people had been killed in 24 crashes on Southland and Otago roads, which was fast approaching last year's total of 35.
"Drivers need to drive responsibly, concentrate on driving the entire time, and not become distracted," he said.
Southern police would be stepping up enforcement, in an effort to reduce the number of fatalities and injuries, he said.
"While the level of enforcement around issues such as speed, alcohol, and adherence to the road rules is already high, we will be targeting those offences which result in people being injured or killed," he said.