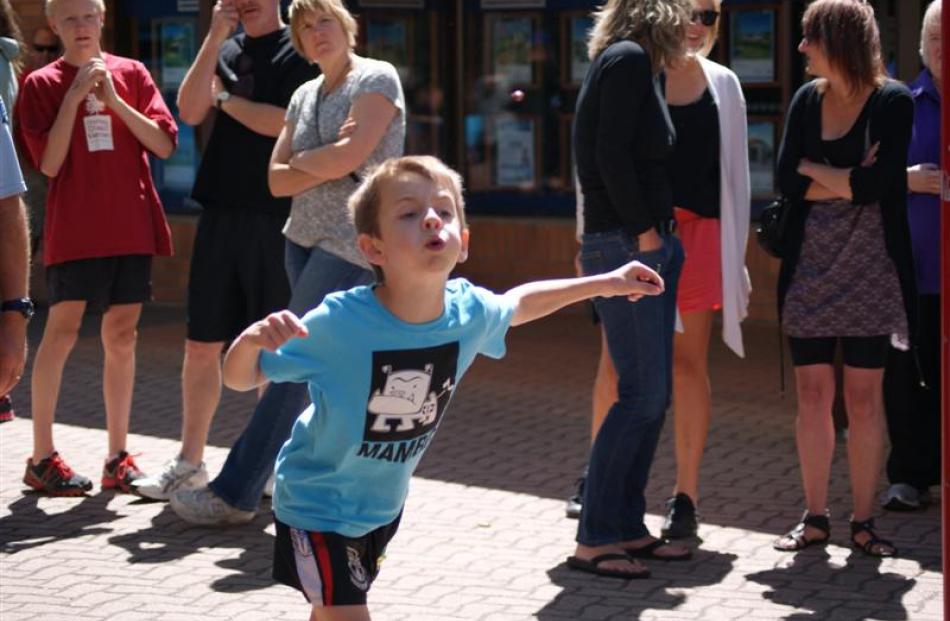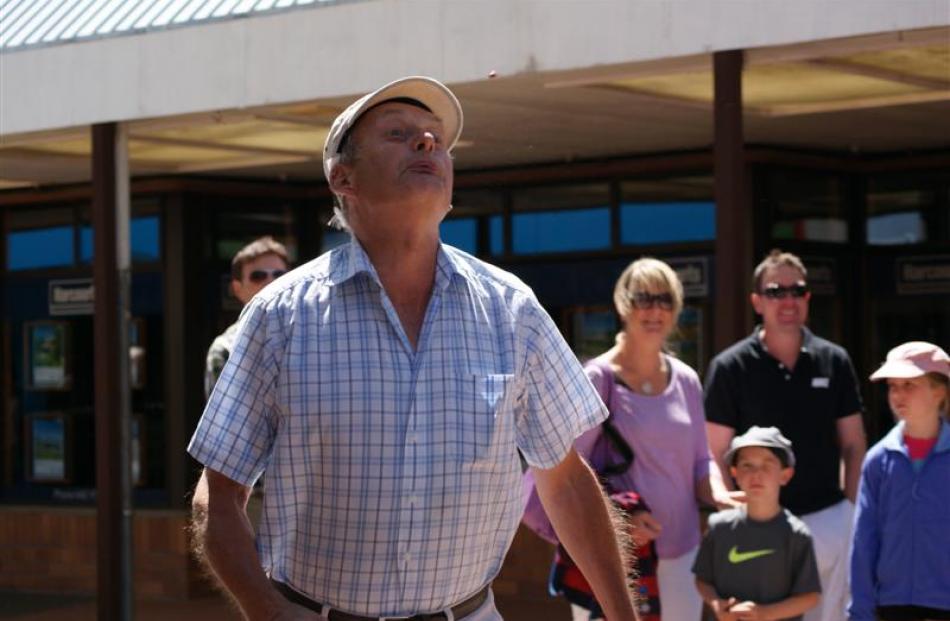 Cromwell cherry stone spitter Mike Wardill successfully defended his national title on the weekend and it seems his family is set to follow in his footsteps.
With a winning spit of 12.09m, Mr Wardill smashed his previous record of 11.5m and outspat the Australasian champ Adam Buckley, of Manjimup, by just better than 2m.
Mr Buckley had beaten Mr Wardill at the Australasian championships held during the Manjimup Harmony Cherry Festival in Western Australia about three weeks ago and travelled to Cromwell to compete in the New Zealand competition on Saturday.
Mr Wardill's son Bob (13) had also travelled to Manjimup, winning the junior category there.
He repeated that win on Saturday with a spit of 8.91m while sister Anna (12) won the junior female category with a spit of 5.87m.
Wife and mother Lisa came second in the women's category with a spit of 7.4m, 19cm behind winner Karen Kerr. The Wardill men said competing in Australia was quite different from their local event, which was organised by the Cromwell and Districts Promotions Group.
In Cromwell they stood in front of a mat with a measuring tape running down the centre to spit their stones. They were allowed as many turns as they liked.
In Manjimup, after performing a haka, they spat off the side of a curtainsider truck and only got two spits, ''just two and that's it,'' Mike said.
He had about 30 tries yesterday, spitting his winning stone just after lunch.
He had been practising, as had his family, leading up to the event.
While Mr Buckley did not admit to practising, he works in a cherry packhouse, packing what he called ''the best cherries in the world''.
The Wardills disagreed with that assessment, saying Cromwell cherries were tastier.
Promotions group chairman Adrian Somerville said the cherries competitors used on Saturday were ''aerodynamically grown''.
In winning the New Zealand competition, Mr Wardill won a spot in the Manjimup competition later this year.
He said there was a whisper of sponsorship from the Australian side to get him there this year.
Mrs Wardill said they hoped to attend the event as a family.
While Manjimup and Cromwell had similar populations, the Australian event attracted ''huge crowds'' Bob said.
The Cromwell crowd was not so big, though there were 76 competitors in all.
Mr Wardill's 2014 winning spit was still behind the event's record of 12.58m, spat by Aaron Collins, of Dunedin, in 2012.
The cherry stone spitting contest was part of the Cromwell Cherry Festival, which also included a cherry pie-baking competition, a pie-eating competition and a guess-the-number-in-the-jar competition.