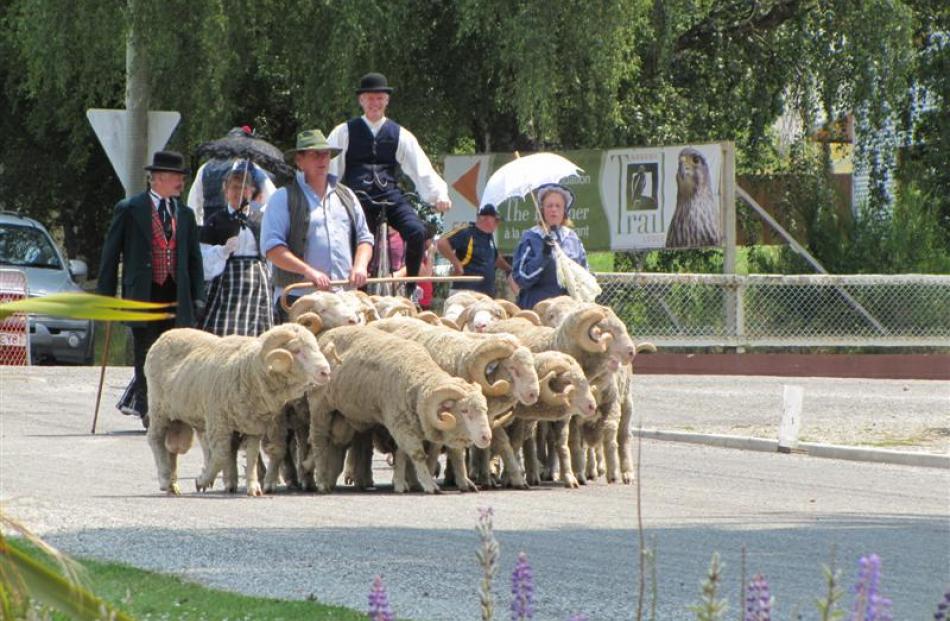 Horse-drawn carts and coaches, vintage cars and machinery, penny-farthing cycles and more than 200 people dressed in Victorian-era costumes paraded around Naseby on Saturday, led by the Maniototo Highland Pipe Band, marking the 150th anniversary of the discovery of gold in the area.
The event was one of the highlights of the week-long Naseby and Surrounding Goldfields 150th Jubilee celebrations and attracted more than 2000 people to the Naseby Recreation Ground.
While the floats, horse carts and cars lined the edge of the park, most people crowded under the trees to avoid the scorching sun.
Once in the park, they were entertained by a line-up of five bands and a magician.
Marilyn Swinbourn, one of the event organisers, said people had come from as far away as Australia and the United States to take part in the celebrations.
Those people had grown up in and around Naseby and had come back to trace some of their family histories.
The celebrations were officially opened on New Year's Day with the annual Naseby Family Fun Day. The following day, about 60 people set out from Naseby on foot, bound for Waipiata and retracing the stops of the early miners.
On Wednesday, it was Oturehua's turn to host celebrations with entertainment at the Railway Hotel following visits to Hayes Engineering,the Golden Progress Mine and the historic Gilchrist's Store.
On Friday there was a vintage machinery display at the Ranfurly Goods Shed and a Victorian tea party on the Ranfurly village green.
Both the Naseby golf and bowling clubs held 150th classics during the week.
A special church service on the Naseby Recreation Ground yesterday morning was the week's last event.
Mr Francis officially brought the celebrations to a close before the annual Cribbies versus Locals cricket match.