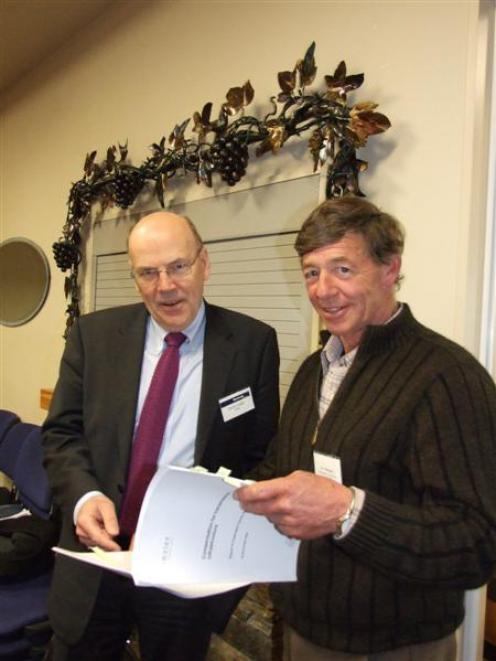 A beefed-up national grid between Roxburgh and the Waitaki Valley would cater for new hydro and wind generation projects and result in less energy being wasted, energy companies told the Electricity Commission yesterday.
The commission held a conference in Alexandra to hear submissions on Transpower's Lower South Island Renewables Project.
Transpower plans to spend about $148 million upgrading existing key transmission lines from Roxburgh through to the Waitaki Valley.
Commission chairman David Caygill said a decision on the matter was likely after the commission's August meeting.
Two groups of farmers also made submissions to the conference, highlighting their concerns.
The Roxburgh to Duntroon Landowners group, represented by Ken Gillespie, of Oturehua, and Peter Hore, of Dansey Pass, asked for farmers to receive compensation for the existing pylons on their properties, considering the effect they had on their farming operations.
Coal Creek farmer Gerry Eckhoff, representing eight farmers from Gorge Creek to the Roxburgh dam, said affected landowners had been disenfranchised and should be adequately compensated for continuing to allow their land to be used.
Meridian Energy's transmission manager, Ray Brown said the lower South Island depended on the Manapouri power station.
Growth was constrained by the grid and by Manapouri's limitations.
"That places constraints on the lower South Island economy, which is not good for the South Island and not good for Otago and Southland."
Any company looking at new development proposals had to consider whether they could get the energy out of the area.
The current "weakness" in the lower South Island grid was highlighted by the power station's sensitivity to changes in the Tiwai aluminium smelter demand.
Recent low Tiwai demand meant lots of spill - wasted energy - in the lower South Island, Mr Brown said.
"If the smelter was ever to close, ... most of Manapouri's output would spill, and that's a huge risk for Meridian, to be quite frank," he said.
Contact Energy's marketing and dispatch manager, Boyd Brinsdon, said the upgrade would alleviate the current loss of renewable energy in spring and summer when there were high outflows in the Clutha river.
It would also ensure that any new generation investment in the lower South Island would deliver its full benefits.
"Intermittent wind generation will be able to be more efficiently coupled to New Zealand's largest stored hydro scheme in the Waitaki Valley," Mr Brinsdon said.
Genesis Energy's regulatory affairs manager, Ross Parry, said Genesis was keeping an "open mind" on the proposal, and was neither for, nor against Transpower's plans for a transmission upgrade.