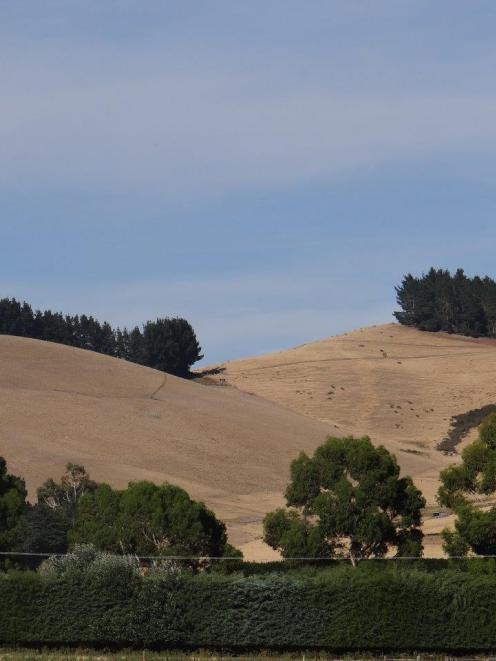 Drought conditions are beginning to bite in the Hawarden and Waikari area.
While many parts of North Canterbury have had some respite from the dry weather with recent downpours and drizzle, the Hawarden and Waikari area has barely seen a drop of rain since November.
The hot dry conditions have been a bonus for some, but a worry for others.
Contractors working on dryland farms said grain had been ''skinny'', with below average yields due to the lack of moisture.
Crops harvested around Motanau, near Greta Valley, had not been quite as bad thanks to some moisture, which had helped produce a better quality grain.
Meanwhile grain growers and contractors working on irrigated properties said they have had a good season, with weather ideal for grain ripening and harvesting.
A contractor in the Amuri area said this year there had been a proper summer. unlike the past few years.
He said the conditions had been perfect for grain and the yields had been excellent.
While high temperatures had been beneficial for ripening grain, even on irrigated land there had been a higher than usual fire risk and most farmers have had a water cart on hand in their paddocks while the harvest was taking place.
Nigel Fletcher, of Fletcher Farm Contracting, said the high fire risk had brought mowing of hay to a halt, with dust on exhausts having the potential to start a fire.
But even the hay made had been below average and any hay left over from last year was being quickly snapped up as feed stocks began to decline.
Some dairy farmers in the Hawarden area were struggling to keep up with irrigation as high temperatures increased evaporation.
Many were opting to irrigate at night when soil and air temperatures were lower.
Both Waikari and Hawarden had experienced several above 30degC days, leading to an extreme fire risk in the area. Brian Stevenson, of the Waikari Volunteer Fire Brigade, said people needed to take care wherever there was the potential for a spark to ignite vegetation.
Some dryland farmers were being challenged as feed stocks declined, but they said it was not critical yet as stock were in good condition after several favourable seasons.
Some were quitting lambs they would have otherwise held on to in order to stretch out feed and while there were a few cooler, cloudy days forecast it did not look as though the rain was coming in any large amount any time soon for parched pastures in the Hawarden and Waikari area.
by Amanda Bowes