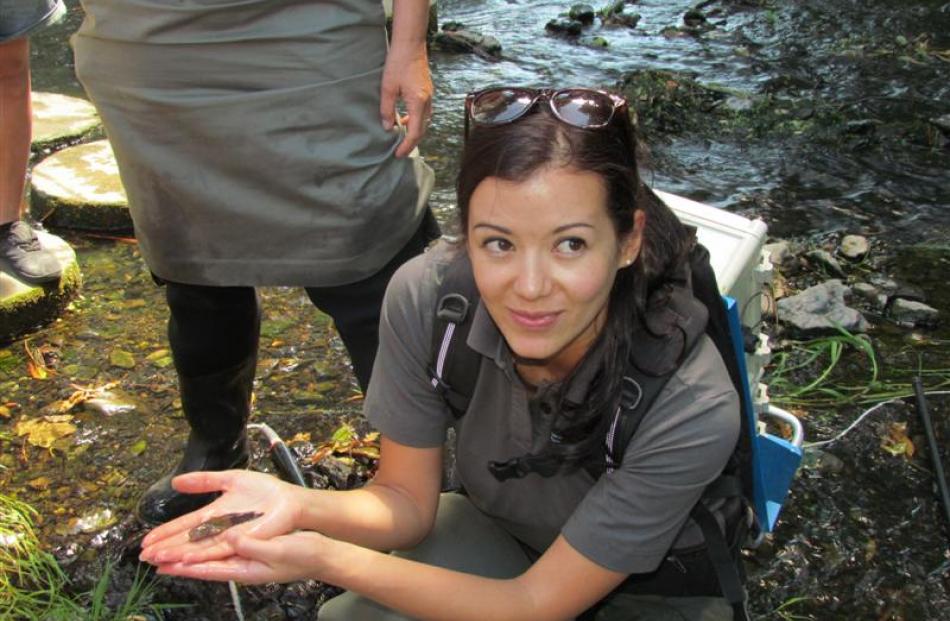 Department of Conservation rangers say more ''galaxiid love'' is needed to help halt the decline of New Zealand's freshwater fish.
Coastal Otago freshwater rangers were in Oamaru on Thursday to conduct a talk at the North Otago Museum, as part of efforts to raise awareness about endangered freshwater species in Otago. Ranger Lan Pham said 80% of New Zealand's 28 species of galaxiids were endangered in some way.
Ms Pham said although the five species that made up the whitebait catch were well-known, there was very little public awareness of the remaining species.
''The depressing part about it is that not only do we not know a lot about our freshwater species, but we are losing them at an alarming rate.
''There are some rare and endangered galaxiids right here in Otago.''
She said the lowland longjaw, which was only found on the Kauru and Kakanui Rivers, was a case in point.
''It's really the kakapo of the water. The population can be down to just 250 individuals, at its lowest point.''
The main reasons for the decline of native freshwater life were predation, loss of habitat, land use changes and barriers to migration.
That was why Doc was ''spreading galaxiid love'' through advocacy.
The talk ended with a demonstration of an electric fishing surveying technique in the Oamaru Creek.
North Otago Museum curator Chloe Searle welcomed the presentation, which was attended by about 20 people, as a great chance to learn more about native aquatic life.
Ms Searle also said the talk had fitted in nicely with the museum's current efforts to encourage more interest in the local creek.
''The talk connects with the museum's current Creek Creatures exhibition, a family friendly display about the wildlife in and around Oamaru Creek,'' Ms Searle said.