A business case for the Waitaki Whitestone Geopark will show investors in the proposed Unesco geopark what they are in for.
It also would allow a yet-to-be formed company to look into possible moneymaking ventures, geopark manager Gerard Quinn said.
Quotes closed on December 10, a consultant would be named before Christmas, and a business plan for the geopark would be ready by May, Mr Quinn, who is also the Waitaki District Council economic development manager, said.
"What's the benefit going to be? What sort of investments might there be? And how do you keep some cashflow going to fund it?"
At the end of last month, the Waitaki Whitestone Geopark Trust submitted a 300-page application that included 43 proposed sites of geological interest in Waitaki, down from an initial tranche of 101, to the Unesco headquarters in Paris.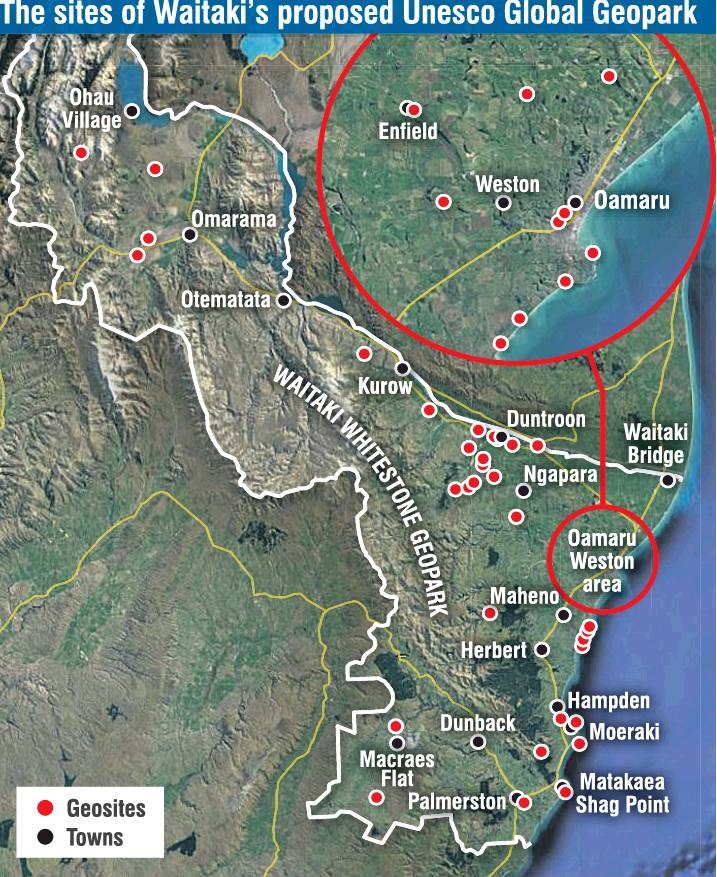 Alongside geological features of the district such as the Moeraki Boulders or Elephant Rocks, the erosion at Beach Rd, ancient shrimp burrows in Ototara limestone at Campbells Bay and the mineral breccia at the Kakanui River mouth were among the "geosites" included.
"The thing that we've got to remember is the geopark is not just about geology, it's about how has the land shaped the way that we live," Mr Quinn said.
"And that's all the way to the past, fossils and the types of soils that are formed. And that means that Maori did certain things on the land and hunted certain animals and gathered certain seafood, and then colonial types of farming, and then the whitestone for the buildings — it's actually about your culture and heritage and biodiversity as well as about geology."
Waitaki Mayor Gary Kircher, who is Waitaki Whitestone Geopark Trust chairman, said the business case, expected to be largely funded by external sources, would specify a sustainable financial model for the company the trust was required to form to employ one or more people as manager, scientist and educator, "specifically so it doesn't become a burden on the ratepayers".
Local branding for Waitaki primary industries, referred to in council documents as a "ParkMark", could add value to Waitaki's already well-known Jersey Benne potatoes or pinot noir, he said.