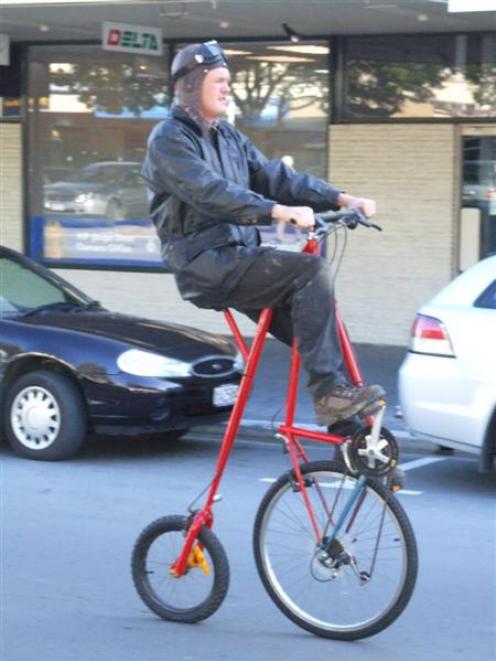 Forget penny-farthings - the pennyfakething is the latest craze to hit Oamaru.
The pennyfakething was invented by Johnny Payphone and represented a way for a steampunk enthusiast to modify a safety bicycle to resemble a "Mad Max" version of the vintage penny-farthings of the 1800s.
With the steampunk craze now hitting Oamaru, steampunk enthusiast Iain Clark approached penny-farthing rider Graeme Simpson with a sketch of a pennyfakething from a steampunk magazine.
The result was a collaboration between the pair and the 21-speed penny-farthing mountain bike was a combination of artistry and engineering, Mr Simpson said, while Mr Clark described it as the "ultimate machine".
The cycle was easier to ride than a penny-farthing and Mr Simpson even had a German tourist hop on and ride down the street.
If there was sufficient interest, there was no reason why a class could not be included at the national penny-farthing championships in Oamaru in November, he said.
"We want to encourage people to have a go at this type of thing," Mr Clark said.
Entries for the steampunk fashion show in Oamaru on June 5 have been extended until May 15, with entries already received from Northland to Otago.
Tickets were also selling well for the ball, being held in conjunction with the show, organiser Helen Jansen said.