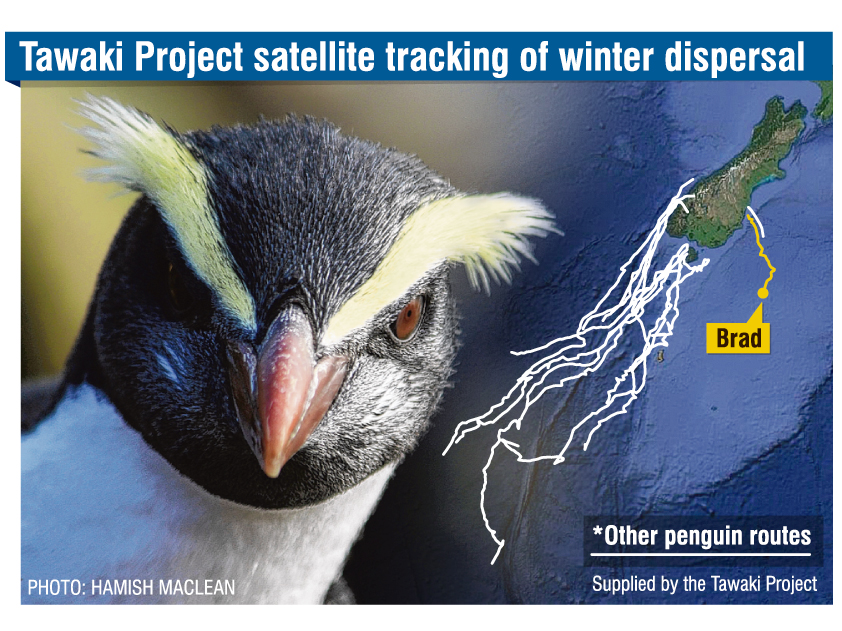 The young adult male Fiordland crested penguin, or tawaki, released from Oamaru earlier this month, has travelled about 500km in just over two weeks at sea.
And Otago University department of zoology researcher Dr Thomas Mattern, of the Tawaki Project, said the roughly 3kg bird, named Brad, had in recent days turned southwest and could now be headed to ''join the fray'' to the west of the Auckland Islands, where other birds in the Tawaki Project's winter dispersal tracking of ''the world's least known'' penguins were foraging after the moult.
Dr Mattern began tracking 16 Fiordland crested penguins as they returned to sea after moulting earlier this month, but two of those birds did not start from Milford Sound, Codfish Island/Whenua Hou, or Jackson Head on the West Coast. Two of the birds were taken into care at the Oamaru Blue Penguin Colony's rehabilitation centre after turning up on the North Otago coast to moult.
Patricia, a 2.3kg female, was tracked for two days from March 2, travelling 167.5km before probably preening off her satellite tracking device on March 4.
But Brad, released on March 7, had travelled 463.2km by March 21.
Both birds originally were tracking southeast, but Brad, who is still online, had turned and could now be headed to join the others.
A number of the birds that began their post-moult journey at Jackson Head, Milford Sound and Codfish Island/Whenua Hou had followed the Solander Trough, to the west of Stewart Island, to start.
''For humans, we just see waves, but I suspect that penguins are able to perceive the slope in the sea surface,'' Dr Mattern said.
''I have a strong suspicion that they use this mountain range to find where they want to go. That's something that our two birds from Oamaru don't have. They just headed out into the big blue with nothing to guide them.
''To the left of Stewart Island it looks like a valley in the sea floor. It's called the Solander Trough, it's an underwater valley - on the left-hand side of that valley it's the start of an underwater mountain range that goes all the way down south to Macquarie Island and beyond. That's quite a significant mountain range and I presume that the tawaki they are able to perceive the change in sea surface height because of that mountain range.''
But Patricia and Brad, who moulted on the Otago coast, probably arrived here after hopping into the ''slipstream'' that is the southern current, which arches around Stewart Island and flows up along the east coast.
''So, of course, if they have to go the other way, they would have to swim against the current, which clearly our two Oamaru birds haven't done. Instead they have crossed the current and got into subantarctic waters where there's very little current movement, and very little sea floor features that might guide them. It could really be that Brad, right now, he's using the sun compass, or maybe the magnetic field of the earth to orientate.''
The Tawaki Project's winter dispersal tracking study was entirely funded through private donations, using the subscription content service, Patreon.
Flint, named after the lead singer of Prodigy, Keith Flint who died on March 4, had last week travelled more than 1800km, swimming past Macquarie Island into Antarctic waters.