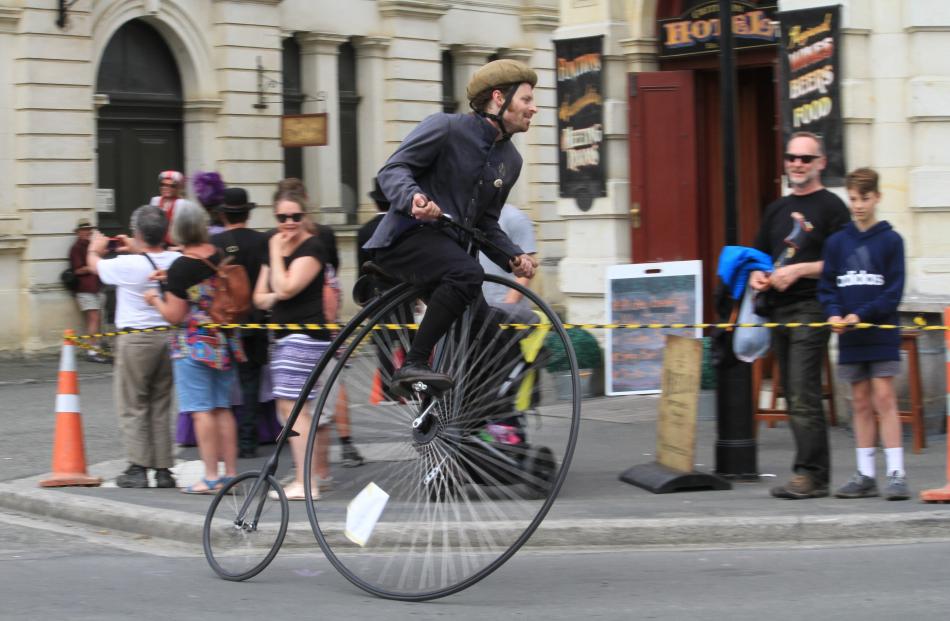 They came, they sawed,  they conquered.
For the second year in a row, Ruby Sinclair (12), of Oamaru, and Iza Brazil (11), of Kakanui, claimed the Parkside Quarries World Stone Sawing junior doubles championship at Oamaru's Victorian Fete at the weekend. Iza offered some advice to would-be comers for next year's stone-sawing championships — when she tried to push the saw, it "got all wonky".
"Don't really push, it's more about the pulling," she said.
And, the girls said, it might be that they come from strong stone-sawing stock.
Minutes after claiming the junior title, Ruby and Iza watched their fathers, Eddie Sinclair and Jeremy Brazil, win the men's doubles title yesterday.
First-time stone-sawers Lu Jiang and April Lin, of Oamaru, had a different take on how they won the women's doubles title. After deciding last year the event looked fun, they entered and were "just lucky maybe" to win the title. Victorian Fete co-ordinator Frances Mcmillan was pleased with  130 stalls "spread more evenly" across the closed Harbour and Tyne Sts.
Up to 5000 people came to the Network Waitaki-sponsored fete  this year, and the overcast sky and cooler temperatures were a blessing for all those who dressed up in elaborate Victorian costumes.
On Saturday, the sun was out and so were the crowds for the penultimate day of the five-day celebration of Victoriana.
Victorian Heritage Celebrations committee chairwoman Marise Martin said she "just loved" this year's Grand Street Parade at noon  on Saturday, featuring 150 participants, and hundreds lining Oamaru's streets.
"It's a glimpse into the past," she said.
"We see things we don't normally see."
In keeping with this year's theme, "Crime and Punishment", Senior Constable Bruce Dow, of Oamaru, dressed as a peeler (Victorian police officer), chased down the "rogue" Waitaki Mayor Gary Kircher in the street and placed him in stocks on the back of a float — for "stealing" the mayoral chains — as the two hammed it up for the crowd.
The New Zealand Chinese Association Oamaru Branch dazzled in colourful outfits.
Barnardos Kidstart Childcare-Oamaru took the prize for the best entry by a school, or preschool. Maheno School was highly commended. Best entry by other community group, including children, went to Musical Theatre Oamaru. Columba Scouts Oamaru was highly commended.
In the afternoon, the Heritage Rowing Cup, dating back to races originally held in the 1930s, was won by the ship's company from HMNZS Toroa, powering past the Oamaru Rowing Club.
And the 23rd Heritage Cycle Championships again drew large crowds to Tyne St to watch one of the celebration's most anticipated events.