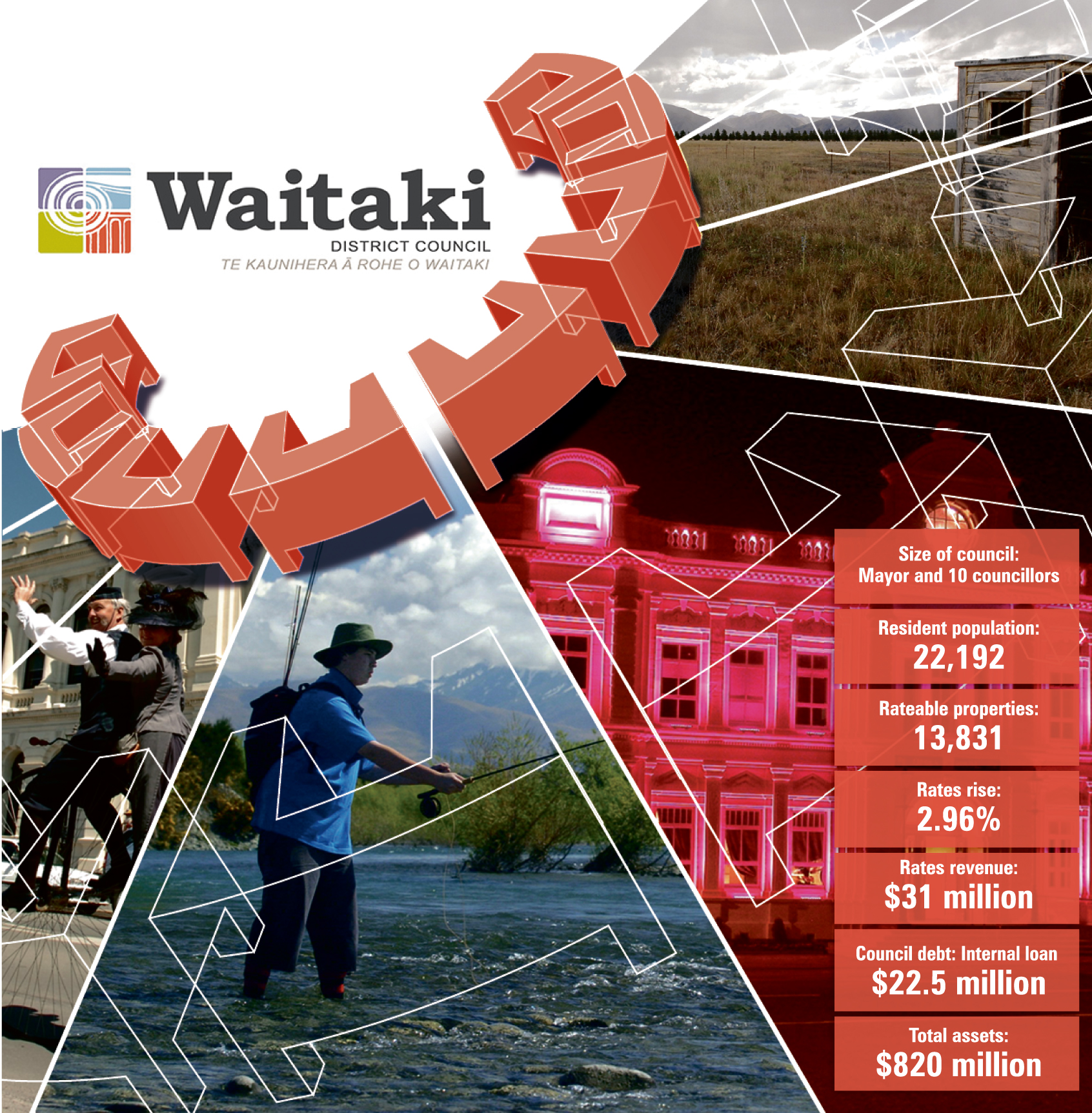 Economic development, managing growth, and paying for infrastructure with a small rating base remain major issues for the Waitaki district.
More than 22,000 people live in the 7216sq km district, but nearly 14,000 live in its urban centre, Oamaru, alone.
The district straddles both the Otago and Canterbury regions and the Waitaki District Council is faced with balancing the needs of a diverse community - with at times both different aspirations and needs.
The burgeoning Waitaki Valley is starting to face the growth pressures many say is the result of a spillover from the Queenstown Lakes and Central Otago districts' growth as well as an influx of summer visitors seeking outdoor recreation.
Rural Corriedale and Waihemo ward residents are facing increased pressure on their core services as the maintenance of the district's 1812km of local roads remains a challenge for the council.
And though Oamaru residents appear to be optimistic about growth, they are now faced with losing amenities residents have come to expect in a town of its size.
Retailers in Thames St, in the town's central business district, are vacating their premises in worrying numbers.
The town has lost its only movie theatre.
Residents and visitors with a cultural inclination have faced the long-term closure of Oamaru's 1882 Heritage New Zealand category 1-registered Forrester Gallery and the long-term closure of the North Otago Museum.
And an intensely scrutinised restructuring of Oamaru Hospital has resulted in a lot of angst in the community, with more than 20 staff members resigning at the hospital in the wake of a controversial organisational restructuring proposal distributed to staff in February.
And yet the district has, for the past three years, also seemed to be approaching a tipping point towards becoming a destination rather than a stopping point in New Zealand's tourism industry.
A $300million Disney feature, filmed in the Ahuriri Valley, was expected to bring at least $13million of spending to the Waitaki district, plus, what council chief executive Fergus Power referred to at the time as, "additional wider flow-on financial impacts expected to be significant but not calculated into this figure".
Mulan is expected in theatres in March 2020 and whether it brings any visitors with its release remains to be seen.
Also, since early 2018 the district council has led a bid to establish New Zealand's first Unesco Global Geopark.
Touted as a means to sell the district's "stories" - its landscapes, geology, cultural history, and gastronomy - to a global market, the project has hit a few hurdles.
In April, the project was delayed 12 months as the Waitaki Whitestone Geopark Trust withdrew its first application after a former global co-ordinator for the Global Geoparks Network, Prof Patrick McKeever, told the trust it was not ready to go ahead with its application.
A business case for the project has yet to be produced. Questions have been raised about its funding. And many residents continue to struggle with the concept as a whole, including the council's role in it.
Four master plan projects have been progressed this term, one each for the Waitaki Valley towns of Omarama and Otematata, one for the resurgent Oamaru Airport, home to the newly arrived New Zealand Airline Academy, and one for what has been described as a "jewel in the crown" for the district - Oamaru Harbour.
At the harbour, what was once a fight for the area's biodiversity against a zipline proposal evolved into a community effort to preserve the "tranquillity" of the historic area in the face of commercialisation where council officers estimate infrastructure costs of about $12million over the next 30 years.
Underpinning all these plans is the draft district plan expected next year.
As it renews its district plan, the council could introduce a "farm base area" where more intensive development was allowed, or create new provisions to protect areas of high-class soils.
It could investigate offering financial incentives to landowners who have "significant natural areas" on their property, or introduce subdivision rules that would keep those areas intact.
It could create stronger rules around the demolition of or damage to heritage structures.
The council will also continue to work on its water supply as next year construction is scheduled to begin on a second 8700cu m treated water reservoir to ensure unrestricted continuity of supply.
Late last year, the council issued water restrictions, warning that about 15,000 people on the Oamaru water supply could run out of treated water after sustained heavy rain caused the water entering the Oamaru treatment plant to be three times dirtier than it had ever been in the past.