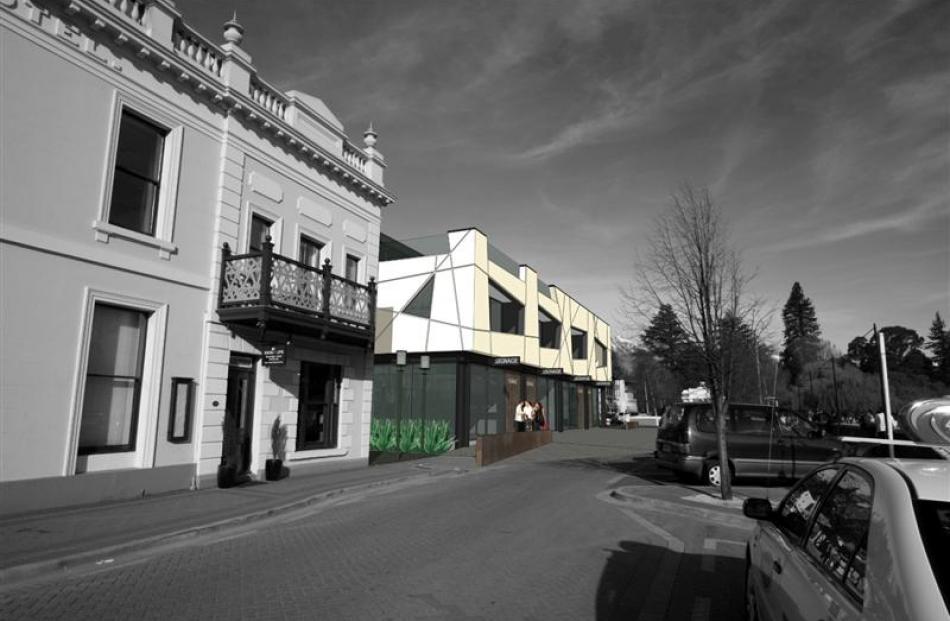 A prime Queenstown waterfront site, occupied by stables many years ago, could be used for a $6 million, three-storey development.
Skyline Enterprises Ltd yesterday unveiled its plans for the building, on the corner of Marine Parade and Church St, overlooking Lake Wakatipu, beside Eichardt's Private Hotel.
Resource consent was lodged on Friday and it is hoped the Michael Wyatt-designed building, if approved, could be completed next year.
Skyline has owned the 781sq m site for about 10 years.
The ground floor retail space of about 700sq m has been set aside for a cluster of high-end retail stores, such as Gucci and Prada.
Skyline chief executive Jeff Staniland said there had already been interest in the building.
"We've had discussions with three or four people ... as it becomes more certain, maybe we can sign people up.''
The first floor would comprise either premium office space, more retail or visitor accommodation, while a luxury 200sq m two-bedroom visitor apartment with extensive balconies would occupy the top floor.
The site was thought to have been used originally by Queenstown founder William Rees and in later years was used for stables and as the servicing area for Eichardt's Hotel.
The stables were demolished sometime between 1930 and 1947 and the land has been vacant since.
The Historic Places Trust had been consulted and was comfortable with the plans, which would be subject to conditions, including archaeological assessment, Mr Staniland said.
The company had already worked with the Queenstown Lakes District Council's urban design panel to ensure the concept was in line with the council's guidelines and vision for the CBD.
He said the ''time was right'' to proceed with the building.''
All business indicators are that this is a very positive time for investment in a development such as this, on the most high-profile piece of undeveloped land in the CBD.''
''We've had a look around and there's very little empty space - if there is, it doesn't stay empty for long.''
Mr Staniland said he had heard of cases where tenants were being offered money by others keen to take over building leases.
''There's very little new supply, certainly in retail, office and accommodation ... it seems like quite a good time to do it.''
Queenstown Chamber of Commerce chief executive Ann Lockhart welcomed the development as a ''strategic asset'' to the downtown area.
''The chamber is currently spearheading a project around revitalisation of the CBD in conjunction with the Queenstown Lakes District Council and this is very much in keeping with our plans.
''It's very positive.
''Certainly, what we're hearing [is] there does seem to be quite a bit of demand to get into the CBD area, from retailers in particular.''
Destination Queenstown chief executive Graham Budd said he welcomed the development of the last piece of prime downtown waterfront land, which would support DQ's strategy of attracting more ''high value'' tourists who would stay longer and spend more.
Skyline Enterprises operates predominantly in the leisure and entertainment fields in New Zealand and overseas, with businesses including Skyline Queenstown, Skyline Rotorua, The Helicopter Line, Mitre Peak Cruises, Christchurch Casino and Skyline Luge Sentosa.