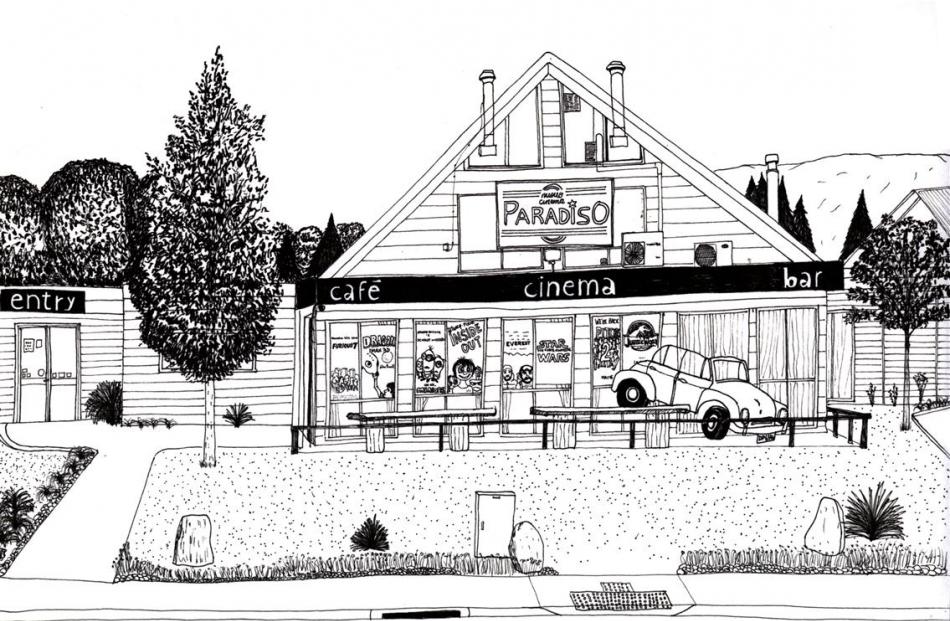 Two South Americans are creating images of another view of Wanaka's charms. Reporter Margot Taylor catches up with the industrious pair.
Next time you are sitting in a Wanaka cafe, be aware you could be the subject of a sketch by South American artists Marcelilla Pilla and Leandro Baud.
The artists have lived in Wanaka for the past two years, during which time they have been quietly working on a project sketching Wanaka's bars, cafes and restaurants and the characters who inhabit them.
While the town is renowned for its scenic backyard, the artists predominantly focus on the beauty of its interiors.
Armed with a stash of markers and a sketch book, the couple say they spend about five hours most days creating their artworks.
Ms Pilla described the project to document the businesses of Wanaka as a kind of "exploration''.
"For me it is like a kind of journalism.
"It is like a kind of exploration.
"I like going out, seeing people and seeing their behaviour.''
The pair have slowly built a collection of drawings of some of Wanaka's most recognisable buildings, including Cinema Paradiso, Kai Whakapai and Gin and Raspberry, which they hope to publish as a book.
Ms Pilla said despite the fact they visited some places often, only one business knew about the Wanaka project.
"We sit at tables for maybe four hours and they need the table so we have to ask for another coffee, or a beer and another beer and food.
"Sometimes they don't know that we are in there drawing.''
The nature of the spaces they drew meant the length of time a drawing took could be measured by the number of pints and coffees consumed.
"The best places let us sit for hours with just water,'' she said.
Mr Baud said the aim of the project was to show the side of the town that was not picture-perfect.
"We love Wanaka but we see it in a different way to tourists, but we are not locals either.''
Being neither locals nor tourists meant the couple had a unique perspective.
While Wanaka was undeniably beautiful on the outside, Ms Pilla said painting landscapes "bored'' her.
"The mountains are mountains. They are going to be there forever.''
The couple had both given up careers on the other side of the world, Ms Pilla as a lecturer, and Mr Baud as a bank worker, to dedicate time to art projects, she said.
"People say to us: 'You are so talented' but that is not true at all. It is about deciding to do it.
"It is not talent, it is a decision to leave behind what you have got.''
The pair hope to fund the Wanaka project through a mix of crowdfunding and sponsorship from the tourism industry.