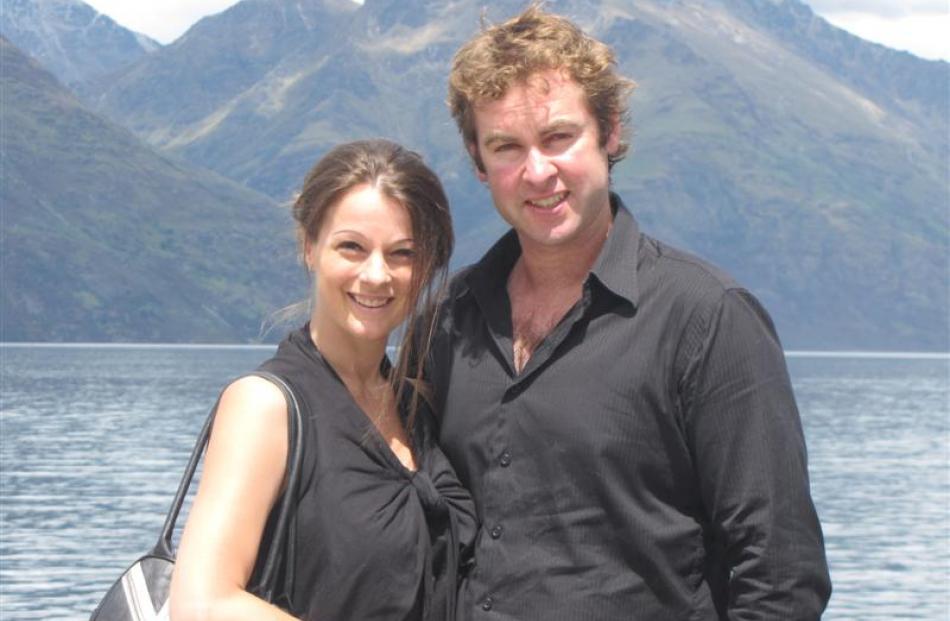 Lisa and Hayden Cosgrove haven't had the smoothest start to their lives together - their first wedding was cancelled; their second attempt went ahead without Mrs Cosgrove's parents; their wedding blessing in the United Kingdom was affected by a snowstorm; and their honeymoon has been postponed indefinitely.
The couple's story touched the hearts of Still Vision Photography owner Jackie Gay, Nemo Workshop owner Trudy Munro and Collective Hair Design owner Deborah Coburn, who picked the Cosgroves as winners of the competition to "re-celebrate" a wedding day. Mr and Mrs Cosgrove tell Tracey Roxburgh their story.
It was the day Lisa and Hayden Cosgrove had dreamed about.
A summer wedding in August, 2010, in Worston, Warwickshire, the bride-to-be's home town in the United Kingdom.
After 18 months of planning, Mrs Cosgrove, nee Davies, headed to the UK a week early to settle last-minute details, eagerly awaiting the arrival of her groom.
On the day of his arrival, she was waiting for the phone call to say he'd arrived at Heathrow Airport.
The phone call she received, however, was one to say he'd been detained.
Mr Cosgrove, a Queenstown resident who had moved to the resort from Timaru, was refused entry to the country because new legislation required a visa for overseas people planning on getting married in the UK; something the couple's travel agents told them they didn't need.
He was put in a holding cell for 10 hours while his family - still in New Zealand - MPs, the couple's vicar, family members in the UK and his uncle, a lawyer, tried in vain to have him released.
Mr Cosgrove was eventually "refused entry" to the country - with a stamp to prove it on his passport.
He was put on a flight back to New Zealand and, in the following fortnight, fruitless attempts were made to have his visa fast-tracked so the planned wedding could go ahead.
"The wedding got cancelled and everyone was devastated," Mrs Cosgrove said.
"We were emotionally shattered.
"We had also had 15 people from New Zealand fly to the UK for the wedding - and no wedding," Mrs Cosgrove said.
"It was a truly horrible time."
Back in New Zealand the couple were "devastated" and had lost money because of their cancelled nuptials, but thought they would try to organise another wedding in Queenstown.
"Our friends organised a lovely wedding for us ... in September 2010.
"It was beautiful and I was so touched by all the hard work and energy so many people put into it."
The wedding went ahead at St Peter's Anglican Church on September 25, pulled together in five weeks with much help from their friends.
However, the day went ahead without Mrs Cosgrove's parents, who were unable to attend because of ill health.
Her sister attended and gave Mrs Cosgrove away on their parents' behalf.
Things began to look up a year ago, when the couple's travel agents paid for them to return to the UK for a wedding blessing, which Mrs Cosgrove said was nice to be able to do for her parents.
But disaster struck again, this time in the form of a snowstorm.
"On the day it snowed so badly that 60% of the people invited - who would have been at the initial wedding - could not get there," Mrs Cosgrove said.
"I got very sick the next day and remained so for the duration of our visit."
The Cosgroves, desperately in need of a break, decided to book a honeymoon to recover from their stressful year, and booked to go to Fiji in July this year.
"Sadly, my mum called mid-June to tell us she had cancer and, at the time, it was not looking good.
"So, I decided to fly back to the UK and spend some time with her, which I have no regrets about.
"However, this meant cancelling our honeymoon, so we didn't have one in the end.
"Mum, thankfully, is on the mend though, for which we are very grateful."
The honeymoon has now been put on hold indefinitely, and the Cosgroves are due to welcome their first child in May.
The couple, as winners of the competition to "re-celebrate" their wedding day, in conjunction with Collective Hair Design, Nemo Workshop and Still Vision Photography, will once again put on their wedding finery, and Mrs Cosgrove will undergo a bridal makeover, before the pair head to a location with Jackie Gay, owner of Still Vision, for a chance to have the wedding photos they have dreamed about.