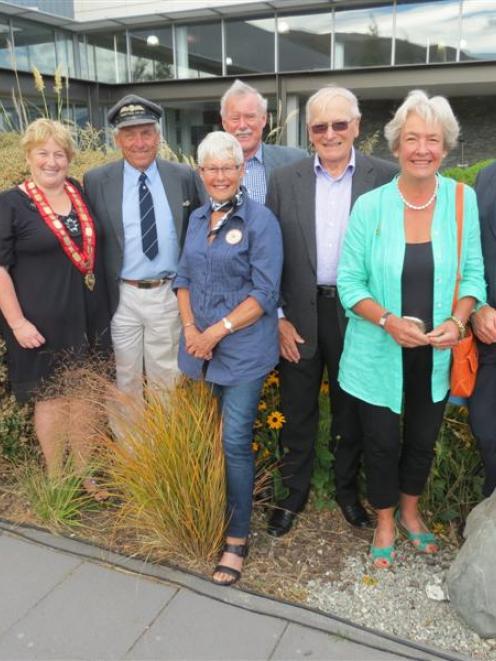 More than 100 staff members, past and present, with friends and supporters yesterday gathered outside the Queenstown airport terminal building to mark the anniversary of the first flight by the airline which is credited with ushering in the modern era of tourism in the district.
Mount Cook Airlines 50th anniversary celebrants (from left) Annabel Elworthy, nee Wigley, of Wanaka, one of three daughters present of Queenstown commercial aviation pioneer Sir Harry Wigley, with Queenstown Lakes Mayor Vanessa van Uden, former Mt Cook Airlines pilot of 13 years Chris Willett, of Arrowtown, Sally Middleton, nee Wigley, of Wanaka, veteran Queenstown aviator and anniversary organiser Jules Tapper, Mount Cook Airlines executive chairman during the 1980s Norman Geary, of Queenstown, Jo Watson, nee Wigley, of Wanaka, and Queenstown Airport chief executive Scott Paterson, together after the unveiling of the commemorative plaque.
Guests enjoyed refreshments in an airport lounge after the welcome by Mr Tapper and speeches by Ms van Uden, aviation historian Rev Dr Richard Waugh and Mr Paterson.