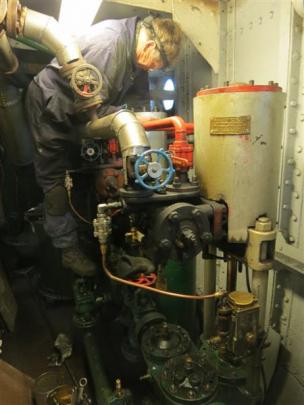 After another year of clocking up 40,000km of icy water between Steamer Wharf and Walter Peak, the normally prim and proper Edwardian ''Lady of the Lake'' is letting it all hang out. James Beech reports.
The sound of banging and whirring tools has temporarily replaced tinkling sing-a-long melodies from the piano and the echoing blast from the steam whistle while the TSS Earnslaw undergoes her inwater survey.
While less extensive and expensive than the slipway survey at Kelvin Heights, done on alternate years, every survey of the 101-year-old iron maiden is a challenge which calls for the utmost ingenuity and skill from as many as 20 Real Journeys and Gough Bros specialists.
Behind safety fences, equipment of all shapes, sizes and ages, along with removed corroded metal, cables and more tools spill out from the Earnslaw on to the wharf.
Cheerful staff, covered head to toe in oil, grease and coal dust, inspect every piece of the engine room and work on countless components of machinery in the makeshift workshop on the promenade deck.
Real Journeys company engineer Brian Humphrey, of Te Anau, said the main project of this survey involved the recladding of the large coal bunkers on port and starboard sides of the steamer. The bunkers have corroded after 30 years of use.
''We're taking the opportunity of survey to ensure the components that control the fires are working as they should,'' he said.
''We're working with the supplier of coal on the West Coast to ensure the coal quality is consistent.
''We're enlisting combustion advisers and feeding back to the Otago Regional Council and the community all our processes which we hope will see the Earnslaw's emissions being the best that can be achieved for a vessel of this age.''
Passengers may experience a smoother cruise in future, thanks to the replacement of 2.5 tonnes, or 200m, of chain with 150m of Dyneema rope and 50m of chain, for the anchor at the bow.
The new rope has a 20% greater breaking strain, but 10% of the weight of its historical predecessor. The remaining 150m of original chain will be kept in storage in Te Anau until another use is found for it, Mr Humphrey said.
Cyclical inspections on the engine, boilers and auxiliary equipment also began on June 3 and work is expected to continue for an intensive five weeks.
The $450,000 worth of survey work and sea trials must be passed by inspectors from SGS Marine Services, before the Earnslaw is returned to service in early July.
''It's very difficult and expensive to maintain a vessel of this historic nature, but we're committed to looking after her,'' Mr Humphrey said.
Asked if the Earnslaw will still be operating when her 200th anniversary rolls around, Mr Humphrey said: ''That's how we see it; why shouldn't she? We can make all her components.''