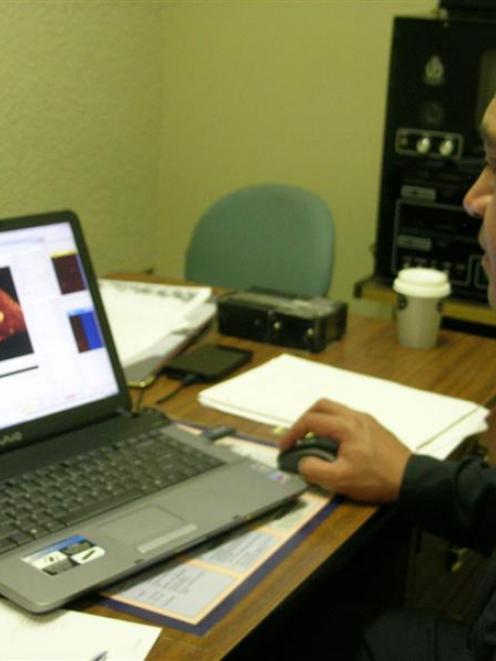 Dive and salvage teams searching for missing Haast pilot Morgan Saxton have found the engine of his Robinson R22 helicopter on an underwater shelf 74m below the surface of Lake Wanaka.
Sonar scans conducted overnight have identified several items of helicopter wreckage, including the engine, a Wanaka search and rescue spokeswoman told the ODT this morning.
The engine and fuselage items were yet to be brought to the surface of the lake, where a heavy commercial barge is anchored.
An icy southerly blast swept across Lake Wanaka and surrounds overnight, bringing snow and plunging temperatures to the region.
Specialist teams from the Royal New Zealand Navy and the police spent yesterday working from the commercial barge, using divers and underwater sonar equipment to search an area of Lake Wanaka, where Mr Saxton's helicopter was thought to have gone down on Saturday.
Salvage and search attempts have focused on a location, north of Mou Waho Island and about 200m from the eastern shore of Lake Wanaka, where Stony Creek enters the lake from near the foot of Mount Burke.
Aerial searchers located an oil slick on the lake and bubbles of oil, emanating from underwater, where searchers have subsequently concentrated their efforts.
Watercraft and land-based searchers combed the lake and shoreline on Sunday, recovering several items from Mr Saxton's helicopter.
These included a fuel tank, aircraft cover, manuals, a flight jacket, backpack, and helmet.
Gusty northwest winds hampered water-based search and salvage attempts yesterday and the search was suspended about 11am.
However, a southerly change late yesterday afternoon brought more sheltered conditions near the northern head of the lake for salvage teams based on the commercial barge.
The salvage and underwater sonar search teams continue their efforts today.