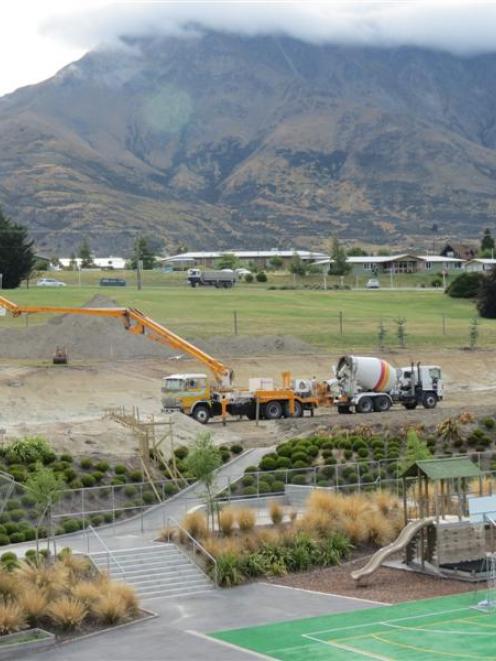 Remarkables Primary School has pushed back its starting date for term one to give Ministry of Education contractors more time to finish the installation of a temporary classroom block and the expansion of the playing field.
Heavy machinery and earthworks are visible on the grounds of the Frankton school as contractors clear vacant land near the existing early learning centre to make way for a single block of two classrooms.
Pupils were now scheduled to begin their studies in 2013 on February 7, which gave contractors on a tight schedule extra time and also was clear of Waitangi Day on February 6, board of trustees chairwoman Fiona Woodham said yesterday.
The ministry confirmed this week two of the temporary ''teaching spaces'' would be ready for use at the start of the school year as planned. The third will be ready for the beginning of term three at the latest.
The classrooms will be fitted with sound insulation to comply with the requirements of the Queenstown Lakes District Council, given the school's proximity to aircraft movements at Queenstown Airport.
Work was also being done to extend the greenfield playing area, another necessity of the school's growing roll. The previously unused and vacant land will be irrigated and given new topsoil to make it safe for children's activities and sports.
A roll of 481 pupils is expected by the end of 2013, based on pre-enrolments late last year. The school board predicts there will be 520 to 530 pupils by mid-2014.
The official capacity of the school is 460 pupils.
Ministry property advisers said last year the school needed to accommodate a further 60 pupils before the planned new Wakatipu primary school opened ''in about two years' time''.
Mrs Woodham said trustees were in the early stages of discussions with ministry officials about permanent classrooms.