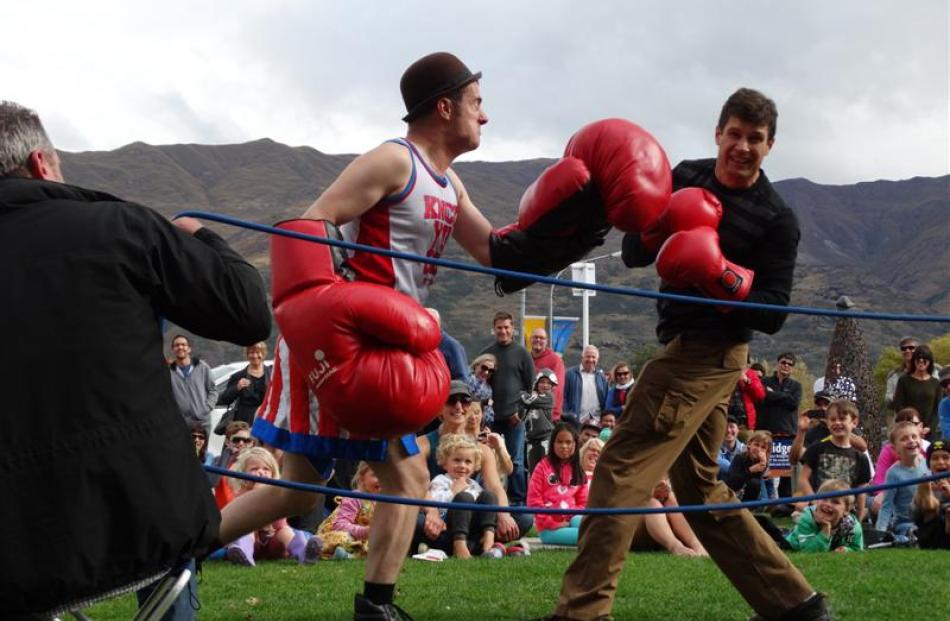 ''The best little arts festival in the country'' was Southern Lakes Festival of Colour director Philip Tremewan's assessment of the week-long celebration of theatre, dance music, conversation and visual arts which concluded in Wanaka yesterday.
''It's been pretty special ... each time people say `This is the best we've seen', and we sort of feel we're setting the bar higher each time.''
This year's programme featured more than a dozen sold-out shows and attracted a wide range of ''totally entranced'' audiences, which included other festival directors from throughout the country, Mr Tremewan said.
Performances took place in Wanaka, Queenstown, Luggate, Hawea and Bannockburn.
The festival prided itself on bringing new work to town, often by special commission, such as the Dave Armstrong play Anzac Eve and the site-specific Cafe, which was performed in Wanaka's Federal Diner and will now tour to other festivals.
''It's a great place for testing out the new work.''
Among Mr Tremewan's personal programme highlights were ''knockout'' musical play Daffodils, street theatre performances by busking boxer Fraser Hooper and the clown, dance, circus and writing workshops taken to local schools.
''The expression on the kids' faces [in the workshops] was just sheer absorption and joy. For me, that's worth the whole festival.''
From intimate shows such as one-man play The Bookbinder where the audience was restricted to just 50 people, to the 46-strong Copenhagen Royal Chapel Choir, the sixth Festival of Colour delivered something for everyone, Mr Tremewan said.
''We ran the range from small to big but we also ran the range in audiences as well.''
The festival finished on a high at midday yesterday with sold-out solo comic show The Pianist, which was viewed by an audience ''chock full'' of children and families.
''It's all about the magic of engaging young and old.''
Some arts-lovers had attended as many as 15 performances over the week and one Tahitian couple had returned to Wanaka especially for the event after being impressed by the last festival in 2013.
A survey would be sent to all ticket-holders to gain further feedback on this year's festival.
''We never sit back at the end and say `Wonderful. We'll do it all just the same'. You're always looking for ways to improve and also, each time you've got to do something a bit fresh and a bit different.''
The survey would also provide an insight into the economic impact of the festival.
''But for me the key thing is feeding hearts and souls - just the joy and pleasure it brings - and the economic impact is just the icing on the cake.''