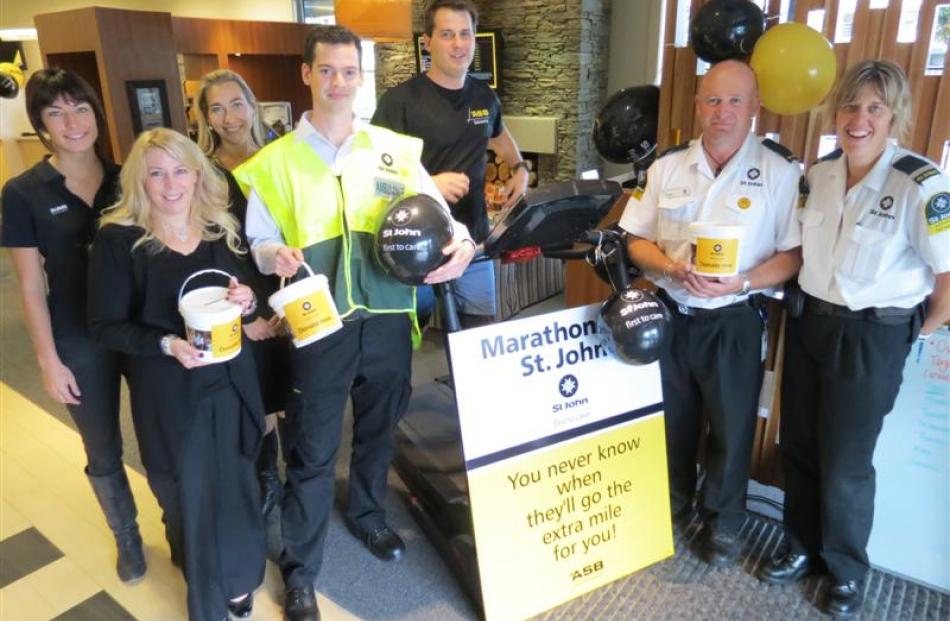 St John Queenstown and ASB Remarkables Park staff (from left) St John area executive officer Jessica Patch, ASB personal account manager Marie Patterson, personal banker Agnes Van Hulst, St John observer Karl Quayle, ASB business manager Joel Peasey, St John ambulance officer Jamie Harris and St John advanced paramedic Sue Tait gathered yesterday to launch the St John branch's fundraising efforts in the Wakatipu as part of St John's nationwide appeal week.
Staff from the charitable organisation and the bank will take turns jogging on the treadmill this week in a sponsored bid to run 187km, about the length of the shoreline around Lake Wakatipu.
Treadmill challengers aim to raise $1200, the cost of one month's supply of fuel for the St John health shuttle.
Their overall target for appeal week is $10,000 to support St John operations in the Wakatipu.
They had a good start when shoppers gave about $2000 to official collectors outside New World supermarket on Sunday.
More collectors carrying donation buckets will roam Queenstown bars on Friday evening.
''The community always gets behind appeal week,'' Miss Patch said yesterday.
Sunday ''at New World was phenomenal - people were chucking in $50 notes''.
''Appeal week is a really good opportunity to engage with people as well as to make sure we're delivering services that meet their needs.''