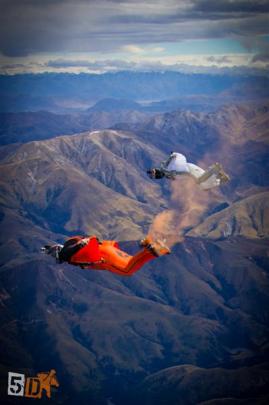 Jumping out of a plane at 20,000 feet wearing a suit inspired by a flying squirrel and reaching speeds of up to 250kmh may be hard for people to understand.
But for Queenstown skydiving instructor Colin Aitchison, it is the stuff dreams are made of.
Mr Aitchison (29), an NZone skydiving instructor, will compete in the Southern Summer Jam at Methven next month, when he aims to set four New Zealand records in one jump.
In his sights are the highest New Zealand skydive and the highest wingsuit flight, both at 20,000 feet (the highest he can go without a personal oxygen system); the longest free fall duration (he hopes to fall for at least four minutes before deploying his parachute); and travelling at least 12km, which would be the longest distance covered in free fall.
Mr Aitchison said he fell in love with jumping from planes after an ex-girlfriend bought him a skydive for his 24th birthday.
''Pretty much as soon as I jumped out of the plane I was like `If I can get paid to do this, I'll be doing all right'.''
Originally from Christchurch, Mr Aitchison attended the New Zealand Skydiving School in Methven, gaining his diploma in commercial skydiving, and has notched up more than 4000 jumps.
He has been jumping with a wingsuit - an aerodynamic all-in-one suit, with special ''wings'' - for about four years.
''From when I first started skydiving, it was something that interested me. It's kind of the next evolution.''
His preparations had included gym sessions where he has focused on gaining arm strength.
Once in the wingsuit, Mr Aitchison holds on to rods sewn into the wings and has to keep his arms extended for the duration of the flight.
''But when you get the wind resistance, it's basically wanting to rip your arms off.''
The record attempts would be verified by the New Zealand Parachute Federation with the assistance of GPS, which Mr Aitchison would wear while undertaking the flight.
And he already has plans to better the attempt next year.
''Next year, it's 30,000 feet.''
His records bid is set for March 7 to 10, depending on the weather.