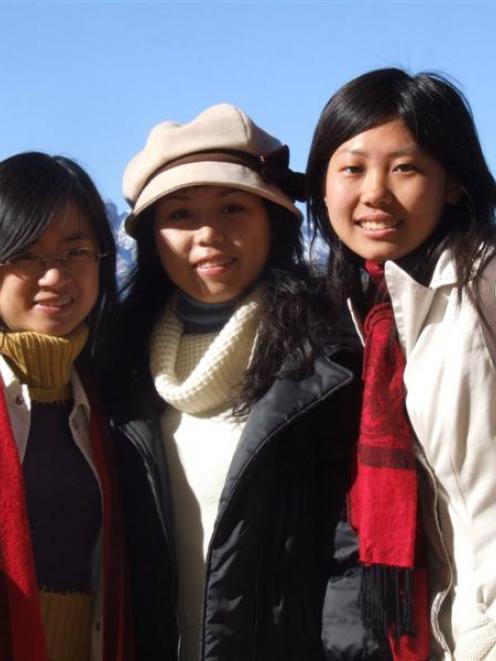 There's more to New Zealand than
Lord of the Rings
and word will soon be out in China, if a group of visiting students have their way.
Carol Mengxi Lin (24), from Zhenjiang province, Rachel Yunqi Zeng (22), from Guangdong province, and Zoe Zuo (22), from Shanghai, were among six Chinese students in Queenstown yesterday as part of a 10-day tour organised by Education New Zealand.
The students were all winners of an essay and blog competition in China organised as a marketing tool by Education New Zealand.
The scheme, which encouraged top university students in China to write about their perceptions of New Zealand, aimed to promote New Zealand's educational opportunities.
Presentations to the six winners were made by Education Minister Chris Carter during his visit to China for the signing of New Zealand's free trade agreement last month.
The six students - accompanied by journalists from mass circulation Chinese newspapers Xinmin Evening News and Nanfang Daily and hugely popular website Sohu.com - arrived in Auckland on April 28 and have been travelling around the country since.
They arrived in Queenstown on Friday for some sightseeing, visiting wineries, as well as riding the Shotover Jet and Skyline gondola, and taking a cruise on TSS Earnslaw.
Not even becoming stranded for 30 minutes when their jet-boat ran aground on Saturday could put the trio off Queenstown, they said.
"We weren't scared and crying - it was just a chance to take more photos," Miss Yunqi Zeng said.
The group was familiar with New Zealand's spectacular scenery from watching movies such as Lord of the Rings, and were versed in last month's signing of the free trade agreement with China, they said.
However, more surprising had been New Zealand's promotion of Maori culture and the inclusiveness of the country's education system, they said.
The group left Queenstown late yesterday bound for Dunedin, and would be visiting the University of Otago later today as part of their travels, which took in the country's top educational institutions.
"I think the New Zealand universities are very impressive," Miss Yunqi Zeng said.
"They are very attractive in terms of the environment and the faculties and the students. In every school I can feel there's something different and exciting."
The six students were continuing to update their blogs while in New Zealand, and would be taking their experiences back to China to share with their fellow students when they departed on Thursday, they said.
"Before we came to New Zealand we thought it was just like Australia, because the two countries are so close together," Miss Yunqi Zeng said.
"I think New Zealand is no longer just a word for us. It's a real experience."