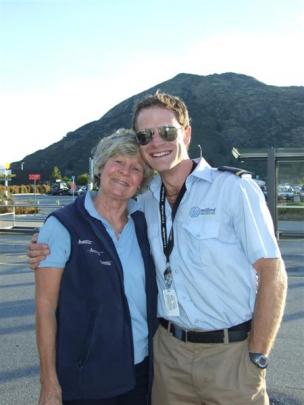 A chance encounter with a Royal Australian Air Force plane was the difference between Air Milford's newly purchased Cessna Caravan plane getting to its next scheduled stopover or having to divert to an airport where it did not have customs clearance.
Antony Sproull (29) co-piloted the $NZ2 million Cessna on behalf of his father, Air Milford owner Hank Sproull, for the flight from Athens, Greece, to Queenstown over 10 days. He touched down in the resort on January 10.
The flight path included stopovers in Rhodes (Greece), Luxor (Egypt), Muscat (capital of Oman), Colombo (Sri Lanka), and the Australian ports of Cocos (Keeling) Islands, Broome, Alice Springs, Kempsey, Port Macquarie and Lord Howe Island before finally Queenstown.
Mr Sproull said he had never been through customs so many times.
''You get sick of all that - belt off, shoes off.
''It took a long time and a lot of patience but it was all part of the excursion.''
Refuelling the plane proved ''quite a process''.
While in the Cocos Islands the crew, which included two Australian pilots, fuelled up the day before leaving with the volume needed for the next day's trip.
When they woke the next morning, they found the wind was double that forecast.
It is a small island and Mr Sproull said fuel acquisition needed to be pre-arranged but thankfully the Australian Air Force had an Orion aircraft based on the islands ''and that morning they happened to be doing an early start at the same time we were heading out''.
''So it was just a stroke of luck that the fuel tanker was on the airfield and had fuel left, too, because quite often the Orion takes all the fuel tanker's fuel ... and [then] you've got to wait until the next shipment comes.
''So that was a blessing really, and quite coincidental.''
Hank Sproull joined his son on the final leg of the journey and said the whole trip would have been ''a great adventure''.
Aside from the 68.5 hours of flying, it included ''the clearance, the protocol, the customs, [and] the refuelling'', he said.
''It just opens a great big door to what happens in the rest of the world.''