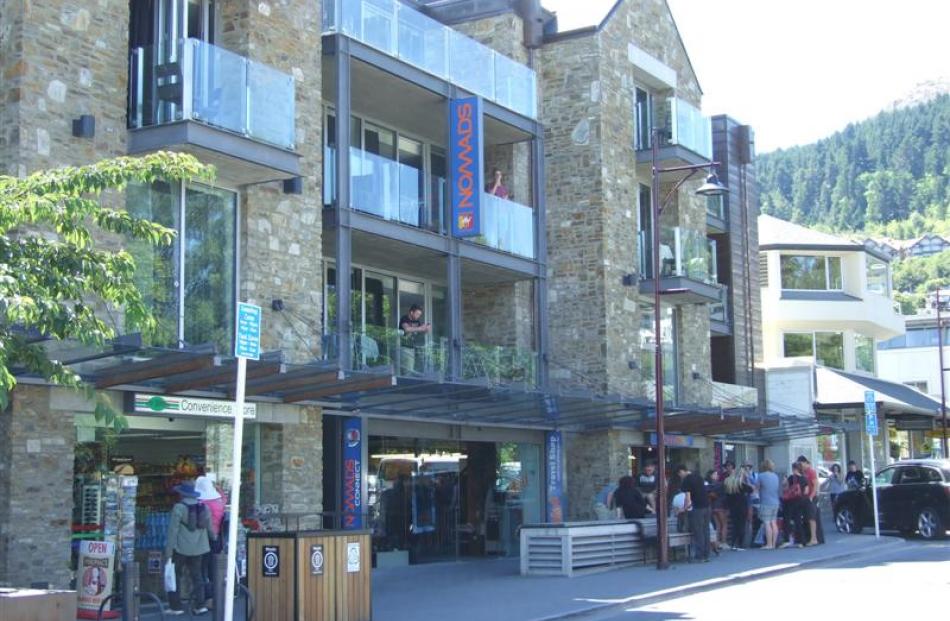 It should have been the busiest day of the year for the small specialty cake shop in Queenstown.
Instead, St Valentine's Day was spent cleaning up after a flood allegedly caused by two guests at the backpackers upstairs swinging on a pipe which then burst.
The total repair bill for the affected businesses could add up to six figures, Senior Constable Chris Blackford, of Queenstown, said.
He said the incident started about 4am when a 25-year-old man and 23-year-old woman, both from the United Kingdom, returned to Nomads on Church St, after making the most of what they thought was to be their last night in the resort.
The intoxicated pair danced on the tables near the guest kitchen before allegedly swinging on a sprinkler pipe, causing it to burst.
The incident triggered the fire alarm, to which the Queenstown Volunteer Fire Brigade responded.
Cup and Cake owner Jaimie Stodler arrived at work at 4.45am ready to start baking cupcakes for Valentine's Day and was confronted by water gushing from her shop, which is below Nomads.
''It sounded like rain inside,'' Ms Stodler said.
''Instead of spending the day making people happy, we are spending the day cleaning up.''
By mid-morning she had already turned away about 100 potential customers.
Income from yesterday ''would have been in the thousands'', as Valentine's Day was huge ''for a little shop like us''.
Below Zero Ice Bar, downstairs from Nomads, was also damaged by the flood, general manger Philip Nestor said.
The water which rained down melted the ice sculptures and the ice bar, which is likely to need replacing as it will become unstable. This will mean getting blocks of ice specially made in Auckland and bringing down an ice carver, also from Auckland.
''It's a major expense.''
When Mr Nestor arrived at the business in Searle Lane he had to ''crack away the ice on the floor'' of the bar, as it was ''like an ice rink'', making it hazardous.
Valentine's Day is a profitable day for the bar, but because of the damage it was forced to open later than usual.
Nomads general manager Dre Broughton said the entire backpackers, with its 383 guests, had to be evacuated because of the alarm, and staff who were not meant to start until later in the day had to be called in earlier to help clean up before commercial cleaners finished the job.
''It's not just us [who suffered damage],'' Mr Broughton said.
''It's a very silly, drunken mistake. We kicked them out straight away.''
About five rooms at the backpackers were affected and it only suffered minimal flooding, as it was mainly Nomads' common area which bore the brunt and this was cleaned up quickly.
Devil Burger also trades downstairs from Nomads and while it usually opens at 10am, yesterday it opened at 2.30pm because of the flood.
Part-owner Craig Robinson said an eftpos machine worth about $1000 was damaged but other than that ''we were lucky''.
Mr Robinson gained access to the premises at 6am and Nomads sent three men to help him clean up.
Snr Const Blackford said the alleged offenders were arrested and charged with wilful damage and were expected to appear in the Queenstown District Court at a later date.
They had planned to fly out to Australia yesterday but their passports were seized as a condition of their bail. One of the pair was working at the hostel in lieu of some accommodation costs. He said police would be seeking reparation on behalf of the victims.
''The damage will run into many thousands of dollars.''