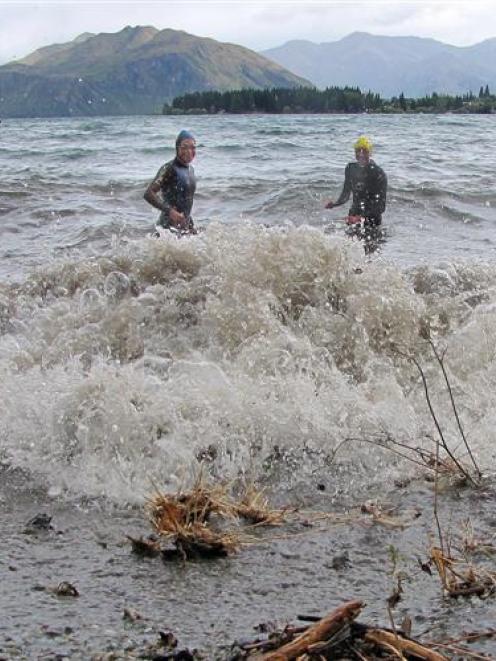 Challenge Wanaka race director Victoria Murray-Orr says high lake levels and a partly submerged run course are no cause for concern - yet. The long-distance triathlon is scheduled for Saturday, January 19, and organisers have been keeping a close eye on the weather forecast and rising lake and river levels after several days of heavy rainfall.
The Outlet Track - on the bank of the swollen Clutha River - which forms part of the 42.2km run leg of the race, was underwater yesterday, and though the flooding was ''not ideal preparation'' for the event, the water was likely to recede well before race day, Ms Murray-Orr said.
''The river levels go down very quickly once the rain stops.''
Event organisers had ''really solid contingency plans'' in place, including an alternative running course which would avoid the Outlet Track, if necessary.
''It's a shame because it misses out the most scenic part of the course ... but if we've got to use it, we've got to use it.''
Similarly, the 3.8km swim course - which would have its length affected by high lake levels - would be adjusted accordingly. The recommended minimum temperature for open-water swimming was 14degC, Ms Murray-Orr said. Lake Wanaka was just under 16degC at present, and she expected it to remain between 15degC and 16degC for the event.
While further bad weather was forecast for next week, reports were changeable on its intensity.
''We just have to wait and see what the gods deliver next week and make a call after that.
''We're in constant liaison with [Queenstown Lakes harbourmaster] Marty Black and Doc, as well.''
In the six years the event has been running, the course has never had to be altered, despite some close calls.
''Three years ago there were some flooding issues, but the river dropped the day before the event,'' Ms Murray-Orr said.
In the worst-case scenario, organisers would do everything necessary to make the transition to an alternative course ''as easy as possible'' for the athletes.
''The race will continue, definitely.''