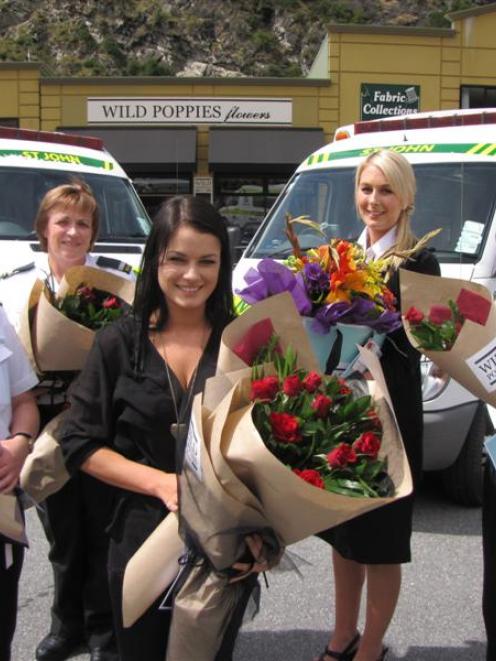 Hundreds of people in the Wakatipu proved romance was not dead yesterday and by sending bouquets of flowers, chocolates, cupcakes and wine to their loved ones through Wild Poppies Flowers, helped raise money for St John.
For the 15th year, St John and ASB bank staff used three ambulances to make deliveries across the Wakatipu Basin yesterday, often to the surprise and delight of the recipients.
People who ordered flowers from Wild Poppies Flowers could pay an extra $10 for the flowers to be delivered by ambulance.
Intensive care paramedic Dianne Payne said she had been assisting with the annual deliveries for the past 10 years and said yesterday afternoon was shaping up to be just as busy as last year, which set a record for deliveries.
''Most people are surprised and happy ... I just wish there were more girls out there [who would send flowers] to guys on building sites.
''They're embarrassed, but I think it's fun.''
Wild Poppies Flowers manager Tanya Baker said although roses were the most popular choice for floral deliveries, this year, cupcakes, chocolates and wine were also in demand.
By 2pm, the florists had prepared ''well over 140'' bouquets and anticipated exceeding 200 before the close of business last night.