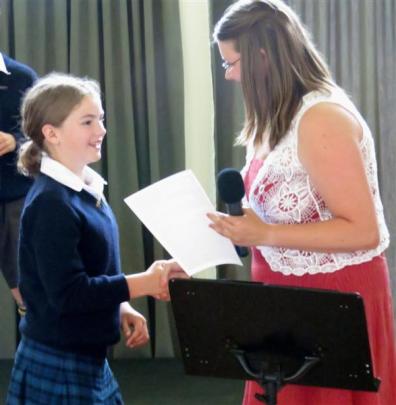 Tributes to all KingsView School pupils for their year of achievement flowed at its second annual Celebration of Learning on Thursday.
Pupils of the Frankton school took the lead with their display of traditional song and dance, pre-recorded comments about their highlights of 2012, a greeting by seniors Max Nicol and Mackenzie Shewan and prayers of thanks by juniors Tau Judd and Sam Vining.
Principal and junior classroom teacher Rebekah Key told more than 60 children, parents, board members and supporters gathered in the Lake Hayes Pavilion the qualities of character, creativity, integrity, perseverance and leadership were among the cornerstones of the education they should seek and hold on to.
Miss Key and senior classroom teacher Marlene van Tonder presented certificates recognising positive attitudes and traits in junior pupils and awards recognising academic and sporting merit in senior pupils.
The Southern Lakes' first state-integrated non-denominational Christian school opened after extensive renovation of premises on Yewlett Cres in February 2011.
KingsView School expects to welcome more than 20 new and returning pupils in the new year, including two KingsView Early Learning Centre children who will turn 5 during the holidays. The school is encouraging more Wakatipu pupils to enrol.