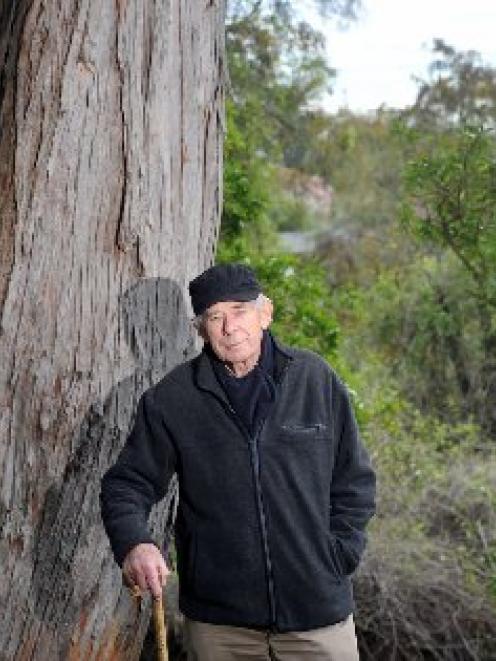 Colinswood Bush is alive with birdsong and has the feel of forest, a tribute to Conservation Award finalist Nigel McPherson's stewardship. Mr McPherson (84) talks about 20 years leading the volunteers responsible for the restoration of the biodiversity of the native forest remnant on Otago Peninsula.
What is it about the project that got you involved and kept you interested?
Colinswood Bush is on private land at Macandrew Bay and has been protected by a Department of Conservation covenant since 1993. Here was a native bush remnant in the early stages of recovery previously neglected, but still with damage from grazing animals, wind, muehlenbeckia and other weed vines smothering lower growing trees, weeds and weed trees in plenty; but also the results by others to restore the original forest and some remaining good specimen trees such as broadleaf, kowhai, lacebark, a matai and nearby two substantial totara pointing to the possibilities that restoration was a realistic goal.
When I retired in 1997 I was able to take up the role as convener and consequently spent most of my available time working in Colinswood. I built up a supportive committee and a small band of volunteers and called on the help of Dr Peter Johnston from Landcare Research and the Otago Peninsula Trust.
How does the project you are involved in benefit conservation?
The experience has served to demonstrate how such an approach might be of interest to other similar restoration projects. One of the benefits is that while the actual project is small it encompasses elements which could be encountered in other projects. Here it has been possible to monitor progress and see results.
The Colinswood experience, if replicated in other areas of the peninsula and indeed other appropriate locations, would not only aid stability but additional bush would attract moisture from low clouds and provide the habitat for natural regeneration and the flora and fauna which once abounded here.
What do you get out of your work in conservation?
Satisfaction in seeing our efforts have already resulted in a noticeable improvement to the existing bush, providing habitat for the trees and shrubs already here before the project began - viable seeds and seedlings from the only matai, estimated to be 450 years old, are now appearing.
Planted specimens are also thriving, with miro planted 10 years ago producing fruit; kahikatea have grown to 12 feet (3.6m) tall; and rimu, totara and matai are all flourishing. As planned, the weed removal programme along with the continued planting is beginning to create a canopy to assist the suppression of weeds. These results are all part of our stated objective, our plan and programme, so it is gratifying to see these aspects coming to fruition.
What challenges have you faced?
The first was to identify what we are going to do and then how we are going to do it. Then it was a matter of getting a group together and getting on with the job. It required establishing a good relationship with the bush's owners, neighbours and Doc. Finding competent volunteer labour for working bees had been a problem and lack of finance, but that was overcome by help from the Otago Regional Council, Otago Peninsula Trust, private donations and grants.
Future direction?
Due to a hip replacement, my future with conservation projects will be limited, but I will always have a personal interest in the fate of Colinswood. I believe the principles of conservation will become even more prominent in people's lives and governments' struggle with the demands of growing populations and the concerns of those who espouse conservation above all else. But there has to be compromise between needs and wants. I hope good common sense will prevail.
As told to Rebecca Fox