The MetService is warning severe thunderstorms could cause flash flooding and hail larger than 20mm in parts of the South today.
Thunderstorms were expected to form over the South Island this afternoon, ahead of possible heavy rain in parts of the South tomorrow.
The MetService said some of these could be severe with localised downpours of 25mm to 40mm per hour and hail possibly larger than 20mm from the Nelson Lakes and south through the central South Island to inland Otago, Clutha and the east of Southland.
Rainfall of this intensity could cause surface and/or flash flooding, especially about low-lying areas such as streams, rivers or narrow valleys and could also lead to slips.
"Large hail can cause significant damage to crops, orchards, vines, glasshouses and vehicles, as well as make driving conditions hazardous."
Non-severe thunderstorms were also possible in eastern parts of the South Island, including Dunedin.
Meanwhile, the MetService is predicting a front to move across the South Island tomorrow and has issued a severe weather watch for heavy rain for Clutha and Southland.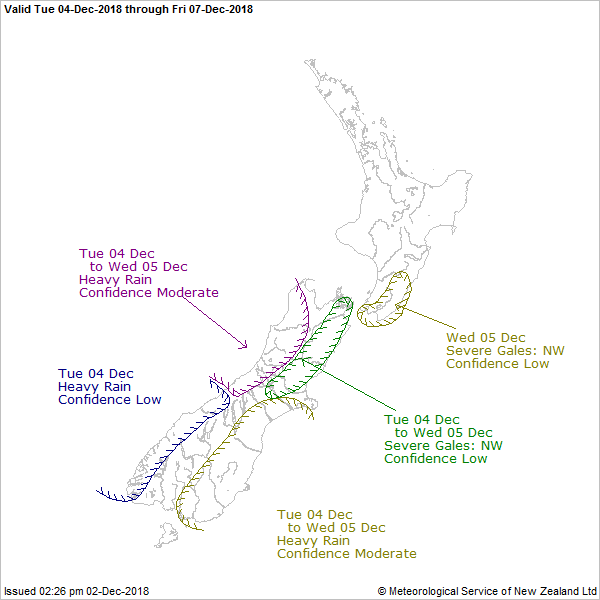 The watch was in place from 6pm tomorrow until 9am Wednesday and rainfall amounts could approach "locally reduced" warning criteria.
According to a weather outlook was a moderate confidence of rainfall accumulations reaching warning criteria in Fiordland and Westland on Tuesday, continuing into Wednesday in central and northern Westland.
Behind these features, cooler south to southwest winds spread showers up the eastern side of the South Island, and there was moderate confidence of significant rainfall accumulations in most of Southland and Otago for Tuesday and Wednesday.