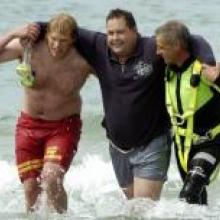 As Shane Hale lay trapped upside down in water, the thought of his young daughter living her life without her father was enough to keep him focused and alive.
The 44-year-old Milton boat fitter, who more than likely worked on the 7.5m McLay 680 hard-top aluminium boat at the centre of Sunday's drama at Taieri Mouth, said his extensive knowledge of the craft helped him turn off the engine, which was leaking dangerous petrol fumes into the small air pocket in which he gasped for air while treading water.
A day after his ordeal, Mr Hale said he had a new-found appreciation for life and doubted he would be back on the water any time soon.
His wife, Sharon, and their young daughter, Morgan-Lee, were at home yesterday, helping him recover from the near tragedy.
''It was survival to the extreme . . . there was a couple of times when I had to get a grip of myself. It was scary stuff,'' he said.
Mr Hale was one of five Milton residents lucky to escape when the boat flipped on the notorious Taieri Mouth sand bar.
While the rest of his crew escaped without harm, Mr Hale was trapped underneath the capsized boat.
The motor was still running when the boat flipped but Mr Hale who knew ''every nook and cranny'' of it was able to free himself and switch off the engine.
''I was getting light-headed and I knew what was causing that and the fumes dispersed once I got the motor off, thankfully.''
He then faced the problem of a small air pocket and oxygen fast running out.
With only enough room for his head above water, Mr Hale said he began to panic several times but the reassuring words of boaties and others outside kept him focused.
But he also said if the situation had lasted another five minutes, the result could have been fatal.
''The water was right up around me and I just had my mouth and my nose out of the water and no more. And the water was getting higher.''
He decided he had to stay calm, knowing help was on the way.
Every time he tried to swim down to the doorway, the lifejacket he was wearing would ''do its job'' and float him back to the surface.
Thinking about Morgan-Lee kept him going more than anything, he said. ''Just the thought of her little face, you know.''
Mr Hale said he had nothing but praise and gratitude for the many people who helped in the rescue.
''Everyone, mate, that made an effort. I just can't thank people enough. They saved my life, you know. They saved my life.''
But Mr Hale believes it may be some time before he goes out on another fishing trip. ''I think I might stick to buying them from the fish and chip shop for a wee while.''