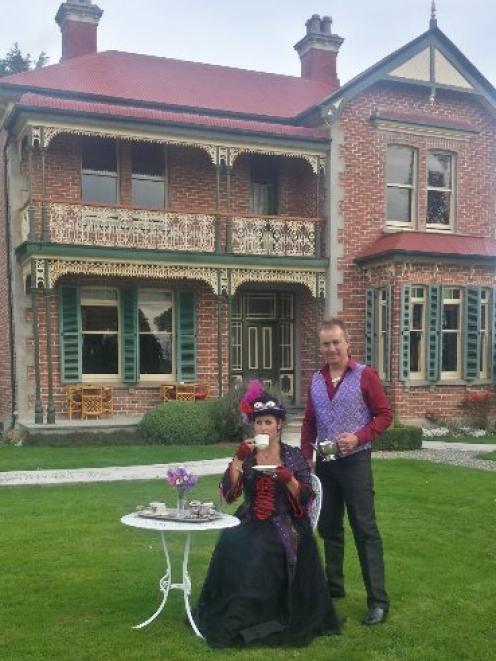 A Victorian gala season will be on at a stately homestead near Tapanui from next month.
The ''Mainholm Gala Season'' will run from May to September, and includes three events - Mother's Day, Mid-winter Christmas Dinner, and a Gold Guitar special.
The gala season, run by couple Vicki Yarker-Jones and Tom Jones, will take place at the historic Mainholm Lodge, near Tapanui.
The pair will run the special season while lodge owners Graham and Sandi Larsen travel overseas for the winter.
A mystery chef from Dunedin will cook the midwinter dinners and Mrs Yarker-Jones expected bookings for the dinner and the Mother's Day event to disappear quickly.
Murder-mystery evenings will be held again this year. Mrs Yarker-Jones, under the moniker Baroness von Vixen, has been running the murder-mysteries since 2009.
Mainholm Lodge is also catering for the Blue Mountain College ball later in the year, and ''Miss Vicki's finishing school'' has been introduced for young ladies and gentlemen, in preparation for the event.
Mrs Yarker-Jones said similar courses in social and business etiquette would be on offer for those wanting ''a cut above'' or to improve their social image.
Savoy Sundays will be held every third Sunday, with staff in Victorian dress.
''Anyone who loved Annie's Tearooms in Oamaru will love Savoy Sundays, with high tea and Sunday roasts.''
''It's really quite exciting.''
Visitors would have access to the ''best craft beer in the country'' and boutique wine.
The lodge will still operate as a restaurant and luxury accommodation.
Mainholm Lodge, on Pomahaka Rd, near Tapanui, was built in 1907, replacing the earlier homestead which was destroyed by fire.
After being enjoyed as a large family home for many decades, it gradually fell into a state of disrepair.
By the mid-1980s it was largely derelict. It was then purchased by a film producer, who gave Mainholm a starring role in The Returning - a New Zealand feature film shot during the summer of 1990.
The project to restore the Victorian homestead began in the 1990s. Traditional materials were used to repair the building and original features - which included hand-painted friezes, fireplaces and wooden trimmings - were carefully restored.
Current owners Graham and Sandi Larsen continued the restoration after buying the property in 2004.