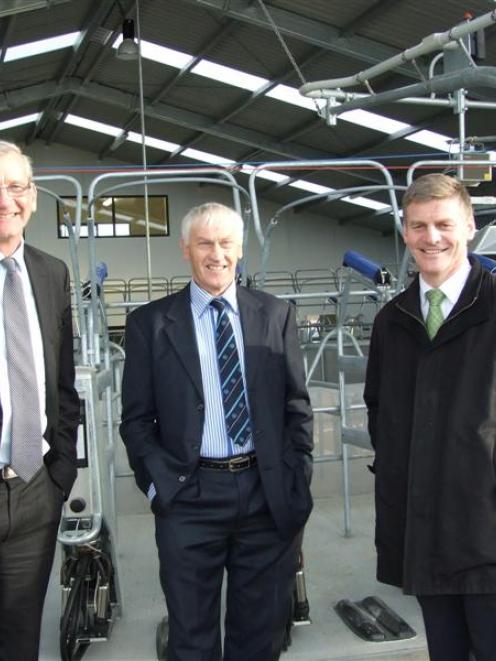 Telforrd's new 54-bale rotary dairy shed, which was opened by Deputy Prime Minister and Clutha-Southland MP Bill English yesterday, marked a change for the specialist rural farm training organisation.
Mr English said Telford had a long record of being a trainer for primary industries.
"This is a case of money finding its way to practical processes.
"It's also a demonstration of confidence in young people ... they will have to be twice as productive as we are to support the ageing population."
Telford was fortunate because some of New Zealand's best farmers were on the farm board, Mr English said.
Telford Farm Board chairman Mike Elliot said the new rotary dairy shed, which replaced a 50-aside herringbone shed, had been equipped with state-of-the-art technology, which made it possible to analyse milk production at any time, ensuring quality control.
He said the shed had a raised viewing platform overlooking the rotary shed and a large covered vet area with a 15-bail herringbone type pit with a lift-out floor, which was ideal for student learning.
"We can have students leaving here instantly employable."
Mr Elliot said the farm separated from education in the 1990s, creating the rural polytechnic.
On January 1 last year, Telford Rural Polytechnic, founded in 1964 as a farm training institute, became Telford, a division of Lincoln University, New Zealand's third-oldest university, founded in 1878 as a school of agriculture.
Lincoln University chancellor Tom Lambie said the university wanted the best production possible, with the best farming practices.
"What we want to see here at Telford Farm is what we have at the Lincoln dairy farm - which is possibly the top dairy farm in the South Island.
"We're hugely impressed with what is happening here at Telford."