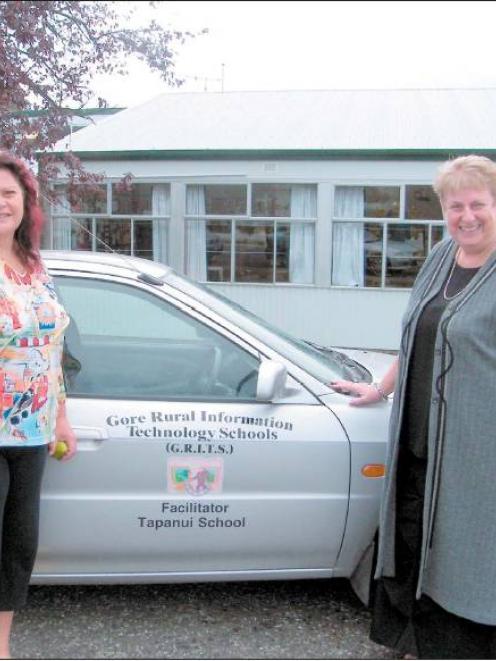 Building on the success of the Gore Rural Information Technology School (Grits) is the plan for Grits facilitator Kim Scott and new project director Anne Gover.
Mrs Scott, who was principal of Waikaka school last year and Grits project director, said she was ''thoroughly enjoying'' the change and challenges of the new position.
''I'm excited about what we will be doing this year to take the pressure off teachers, to support them to improve their teaching, and to see information communication technology (ICT) as an amazing teaching tool.
''Mostly though, I'm just excited about the children learning through this technology,'' she said.
Mrs Scott said the key to the programme was showing teachers how best to use this technology as a teaching tool.
She said 22 teachers attended a workshop run by Tony Ryan in Queenstown last weekend.
''Tony is an Australian expert on emotional skills, intelligence and thinking skills.
''We'll also have Kath Murdoch here later this term.
''Kath's an inquiry learning consultant - inquiry learning is the way schools are going.
''We'll have 100-odd teachers attending that in Gore at the end of this term,'' Mrs Scott said.
For the children involved in the 14 Grits schools around the Gore district, there is more involvement in internet technology to look forward to.
''Up 'til now we've been focusing on what's called Web1, which is where the children use the world wide web to access information, retrieve information and learn from it.
''Now we are getting into Web2 programmes, like blogs, virtual field trips and wikis, which are more interactive ways of learning,'' she said.
It is more about using the web to share information and learning from that, she said.
''The ICT technology that is available now for our teacher and kids includes: Web2, data projectors, computers, laptops, interactive whiteboards, and video cameras.
''It's my job to help teachers learn the skills they need to integrate the technology into their classrooms.
''Twenty per cent of teachers in our cluster are new to teaching or new to the cluster.
''Our challenge is to provide them with what they need to use that technology to enhance the children's learning,'' Mrs Scott said.
She said the calibre of teachers in Eastern Southland was ''exceptionally high''.
Grits won a place in the Ministry of Education's Information Communication Technology (ICT) contract, which provided funding for three years to create a selfsustaining network of professional development in ICT within the schools.