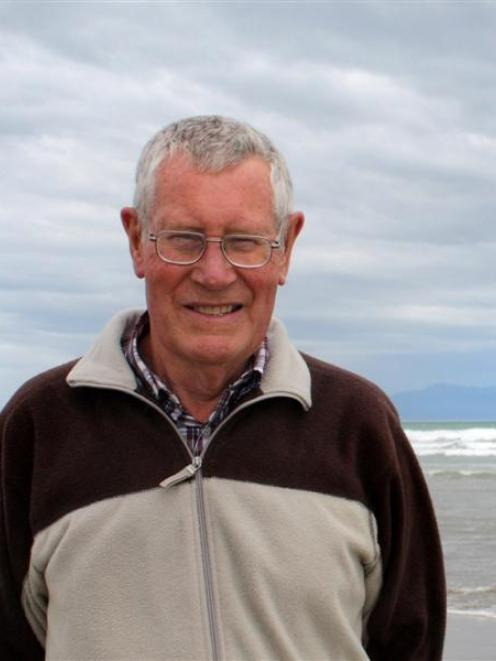 The seventh person to swim Foveaux Strait, and the first to swim it from Stewart Island to Bluff, says he has great respect for John van Leeuwen, the first person to conquer the fickle strait 50 years ago.
It took Invercargill masters swimmer Wayne Evans nine hours and 20 minutes to complete the swim on Saturday during an event commemorating Mr van Leeuwen's history-making endeavour of February 7, 1963.
''I have great respect for what he achieved, especially as he wore a bathing suit and I had a wetsuit,'' Mr Evans said.
Stiff and sore yesterday and unable to lift his arms above his shoulders, he said the sea was rough and there was doubt at first whether the swim would take place. Then he hit a rip and ''battled through concrete'' for the first three hours before conditions calmed, he said.
Other swimmers, most from the Oreti Beach Surf Lifesaving Club, of which Mr van Leeuwen is patron, swam in relays.
They were to join Mr van Leeuwen, his twin sons and a group of young club surf lifesavers for a ceremonial swim into Oreti Beach on Saturday evening, but because they were delayed the ceremonial swim went ahead without them.
Mr Evans said his name would not go down in the record books because he did not have official timers and recorders with him.
Mr van Leeuwen (78) said on Saturday he would never have become the first person to swim the strait without the help of his swim buddies.
While he swam, his buddies took it in turns to swim with him, encouraging him and feeding him Complan to keep his strength up.
''I always say we swam the strait, not me.''
So it was fitting some of his swim buddies made it to Invercargill for the commemorations. They included Tim Fenton, who travelled from Canada, John Fogarty, who like Mr Leeuwen still lives in Invercargill, and Mr van Leeuwen's 1963 girlfriend, Ann, now his wife.
Back in 1962, members of the surf lifesaving club decided to try swimming the strait, Mr van Leeuwen said. Coach Ivan Wilson selected him as the swimmer who would go all the way.
''I was the oldest in the group ... but I was the toughest trainer. The others used to swim upstream on the edges of the Oreti River - I swam in the middle where the current was strongest.''
The February 7 attempt almost ended in failure midway when the group was ''attacked'' by bluebottle jellyfish, he said.
Mr van Leeuwen had grease on his body to protect him from the cold but was ready to quit when the bluebottles began stinging his face.
''I stopped and put in a complaint to the complaints department - Ivan. He got engine oil and smeared it across my mouth. That's what saved me.
The group had left at 9am but struck three tides and swam many more kilometres than they had expected to, he said.
''The strait is 30-something kilometres and we might have swum 50. By the last two hours, I was getting very, very tired.''
Ann swam the last section of the journey with him, urging him to go on.
Finally, 13 hours and 36 minutes after leaving Bluff, they reached Stewart Island at an area has since been renamed van Leeuwen's Landing.
''We went to Halfmoon Bay for a good meal of sausages, eggs and chips and a good night's sleep. But first I had to be degreased,'' Mr van Leeuwen recalled.