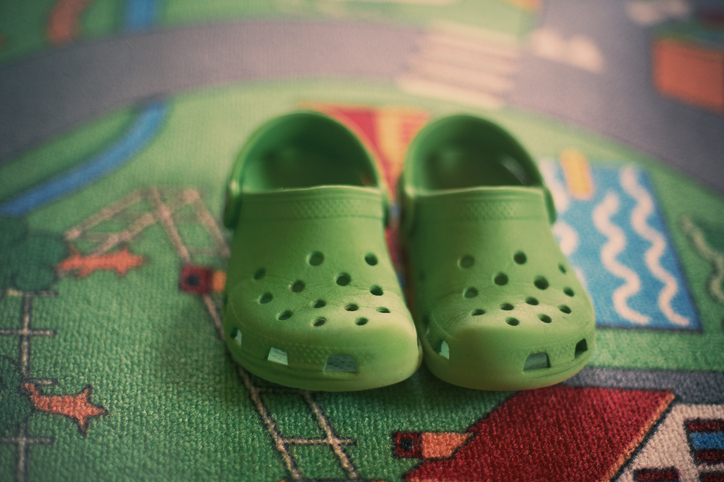 Popular children's trading cards Yu-Gi-Oh have been banned from a West Auckland school and Crocs have been barred from a South Island primary school after fights erupted over Jibbitz.
Wānaka Primary School is the latest school to ban pupils from wearing Crocs or bringing Jibbitz - shoe charms that fit on to the rubber shoes - to school.
In a newsletter sent out in the first week of the term, the school declared the popular footwear a "no-no" saying they were "not part of the school uniform" and created safety issues, while kids trading Jibbitz was causing arguments.
A pupil at the school told her parents they were not allowed to wear Crocs because children were getting into playground arguments over trades.
Principal Wendy Bamford told The New Zealand Herald they had asked pupils not to bring Jibbitz to school because, like trading cards, there were issues with "unfair" trading and Jibbitz going missing, which could cause "strife".
The newsletter outlined a situation where big kids were "negotiating" with little kids over Jibbitz trades.
"[Jibbitz] are quite expensive and highly attractive to our young 'collectors'. So no Crocs or Jibbitz at school please," it read.
Bamford told the Herald the main problem with the shoe was that children could not run properly wearing the rubber clogs and struggled to engage in PE or games.
"We have had a few injuries due to children tripping over ill-fitting Crocs or slipping out of them," she said. "We need children to be in safe, suitable footwear so that they can run, jump and play safely. Crocs just don't suit a busy learning or play environment."
The newsletter said the issue needed to be addressed because Crocs seemed to be becoming a "fad" at the school.
Wānaka Primary is not the first school to ban the popular footwear.
In November last year, Whangārei Boys' High School also banned Crocs.
Trading cards have long been an issue at schools, with many making the move in the past to ban Pokemon Cards or Countdown's collectable DreamWorks Heroes cards.
Most recently Yu-Gi-Oh cards, based on the anime series, have been causing a headache for staff at a West Auckland school.
Hobsonville Primary School principal Anne Leitch said Year 5 and 6 pupils had this week been told to leave the cards at home after they started to interfere with learning time.
She said the school usually allowed the trading of such cards during intervals because "we are of the belief that students can learn from those games and situations".
The letter to Year 5 and 6 parents said staff had noticed some pupils were allowing the cards to interfere with their interactions and learning. It also said learning time had been taken up by teachers having to deal with issues involving the cards.
Leitch said there had been no issues with unfair trading or the loss of cards in this situation.
"We have [had that] at other times and then we work with the children in a restorative way. Generally when those sorts of things start happening, then the cards go home," she said.
The bans come on the back of a National Party election policy announcement it would ban cellphones in all schools when in power.
Schools that had already implemented such a policy themselves said it was one of the best decisions they had made and pupils were once again playing and talking to each other during breaks.
Other principals said a blanket ban was not necessary and schools should be left to make the decision based on what was right for them and their community.